By Nozia Sayyed
A British charity, working with the NHS, has started a Covid-19 vaccination drive for homeless and undocumented migrants in the UK. NishkamSWAT conducted the first such inoculation on April 19.
Its CEO Randeep S Lall said: "Those who are homeless are much more likely to have physical or mental health conditions which put them at a higher risk from the harms of Covid-19. This is a public health issue (worldwide). Regardless of legal status, everyone should have the right to a vaccine."
Run mostly by Sikhs, NishkamSWAT is known for serving meals to the homeless and vulnerable people.
Lall added: "Being the ones on the frontline, serving the most vulnerable in our society, we realised the homeless community were completely forgotten about; especially those who are undocumented. And knowing the danger this poses for the wider community, we knew something had to be done as a matter of urgency. Hence we chose to take up this responsibility."
According to the charity, the vaccination drive will cover central London and Birmingham.
Gurinder Singh, a community pharmacist and a member of NishkamSWAT, told Pharmacy Business: "Vaccinations are meant for everyone and each person has a right to it. However, this group is known for its vulnerability and lack of access to basic rights towards healthcare.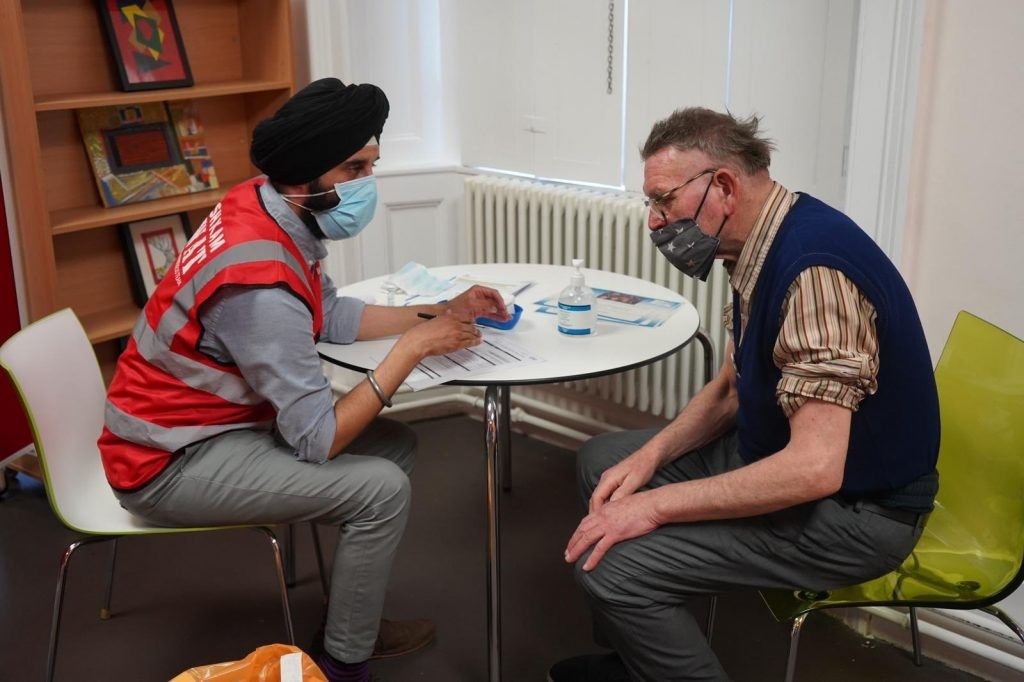 "That's why we decided to organise a vaccination drive for them."
He added: "Last month when the NHS announced about vaccination and immunisation for homeless people (which will be in group 6), our charity found out that many homeless people we distributed food to were not vaccinated.
"Working in a pharmacy, I have seen clients on a daily basis who sleep rough, are homeless and have not had their vaccines."
"Basically, the homeless group is vulnerable and often lack an address. They feel nervous, and that they are being judged for the way they dress or look. This is also why they avoid going into a clinical setting. Hence, it becomes important that this initiative reaches them; that is why we are vaccinating in a pop-up clinic where the vulnerable group don't have to travel or leave to go to another area."
In addition, Singh said, many homeless people believe they are not entitled to vaccines or healthcare and are not registered with a GP; some don't even have an NHS number.
"This makes it even more important for us to reach out to them and help the group survive," he said.
"This crisis needs urgent attention and everyone offered the vaccine needs to take it up. I would go further and say we need to support other countries too – low-income countries where the vaccine rate is 1 in 500, compared to high income countries where it is one in four. This should not be about the rich or poor."
Asked about the response from the vaccination, Singh said, "The first drive itself was a success, so we conducted a second one and now we will continue to do more."
"It is known that issues of homelessness are always neglected and not many talk about it. So to follow this through with a vaccine programme is a massive achievement for us and the charity. This has helped us work with lots of different stakeholders – Westminster Council, the NHS and many local GPs."
Sigh added: "It is extremely challenging to vaccinate this group as locating them is itself a task as they lack their 'own homes'. Now we will return in June to offer a second dose. This agreement in place with the NHS who have already authorised us."
The charity is also vaccinating undocumented migrants some of whom may have poor health conditions and lack sick pay, Singh said.
He added: "Many of our fellow pharmacists are contributing towards this cause in their own way. They are going above and beyond to get the nation back on track. We all need to contribute in our own way to fight this crisis and bring normalcy back to the human race."