In an exclusive interview, Tess Player, GSK Consumer Healthcare's global head of expert and influencer marketing, explains how her company backs community pharmacists by offering them a range of useful tools, bespoke support and educational material. She spoke with Priyankur Mandav…
Covid-19 has accelerated a culture change for community pharmacists. Throughout the pandemic, they have been the first line of advice, treatment and referral for common illnesses, and they have Successfully prevented countless unnecessary visits to A&E.
The commitment of the profession to patient care has been widely recognised by both the government and the public. Despite immense pressure, pharmacy teams have risen to the challenges posed by a Global pandemic.
"The extent to which pharmacists went over and above the call of duty, acting outside of their licences from a humanity point of view was extraordinary," said Tess Player, vice president and global head of expert and health influencers at GSK Consumer Healthcare, calling them the "unspoken heroes" of Covid-19.
Pharmacy teams from around the world have shared with her their experiences. Pharmacists in China remained open round the clock and sourced face coverings for their community and metered out the short supply for their patients.
In India, sons of pharmacists hopped on their motorbikes to deliver medicines for patients suffering from diabetes, CVD and other lifethreatening conditions.
Tess was particularly impressed with the way pharmacists would make use all possible resources to perform their role as care providers.
"What I found really humbling was just how dynamic the pharmacists have been around what technology platforms (such as WhatsApp and Instagram) they would use in order to maintain that contact with their communities."
Resilience programme
Calling them the front door to the NHS, she praised the overstretched and often underutilized workforce of the UK's health service for responding heroically to the challenges of the pandemic, demonstrating an unflinching attitude when doing what was needed to be done.
"We are very grateful to them for all they have done through a very difficult time," she said.
However, that contribution has not been without consequences.
Research around the globe has confirmed the adverse impact of Covid-19 on pharmacists and their teams. Being on the frontline throughout the pandemic has also affected their mental health and wellbeing.
Therefore, as part of a long-term commitment to support the outstanding work of pharmacists, pharmacy technicians and their teams, GSK Consumer Healthcare recently joined forces with GRiT, a Global Resilience Team, to help the profession rebuild post-pandemic resilience – by expanding access to bespoke mental health and self-care resources.
Tess said: "We've partnered with them to create what we call the 'pharmacy resilience programme'. We felt that just empathy or understanding wasn't quite enough. We wanted to be much more active, so we've partnered with this team of academics, practitioners and regulators to deliver bespoke webinars and bite-sized content for pharmacists in terms of managing their resilience through the stresses and the burnout, which have been exacerbated by the pandemic."
Support for pharmacy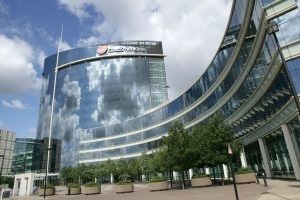 GSK Consumer Healthcare has just unveiled a three-year commitment to support the pharmacy  profession with additional practical resources, mental health provisions and proposed policy and regulatory changes.
The company produced a new report entitled 'Standing with Pharmacists in the Age of Self-Care' which identifies six barriers faced by the global pharmacy community that prevents them from fulfilling their critical roles.
These barriers are: workload; remuneration; limited education on disease prevention; public misperceptions of pharmacists' expertise; integration challenges within the wider healthcare system; and support for identifying and addressing low health literacy among health consumers.
"Our three-year plan is only the beginning; we have spent years working with experts to gain a better understanding of the barriers the pharmacy community faces and how we can empower them to fulfil their utmost potential," Tess said, commenting on the report.
She added: "We've seen Covid-19 have a significant impact on consumers' understanding of self-care, leading to an increased focus on wellbeing and everyday healthcare. During this time, pharmacies played a vital role in providing care and advice to their patients – particularly with many other health facilities closed.
"Our research shows that more than half of Europeans are planning to consult their pharmacist more often than before the pandemic.
Yet in general, pharmacists remain under-utilised, despite being the most widely distributed health resource in Europe."
Tess has seen the profession evolve substantially over several years and across continents. The various positions she has held for GSK have allowed her to experience first-hand the breadth of the role that pharmacies play – from hospital pharmacies in China which see upwards of 1,000 patients a day each to community pharmacies in Australia and the big pharmacy chains in North America.
"And what really strikes me in all of that is just how progressive the UK pharmacy environment is. The role that pharmacists, particularly community pharmacists, can play in a multidisciplinary team, focused on essentially the care and the ultimate end goal of having better health outcomes for their patients is absolutely critical."
"I am excited about the next phase and the progress that needs to be made following the pandemic," she said, when asked how GSK Consumer Health was going to support community pharmacy once the new world of integrated care system kicks in.
The government's vision is for a fully integrated community-based healthcare model where pharmacists play a prominent role in multidisciplinary teams aligned with primary care networks.
"As an organisation, we're different because we really care for our patients and our healthcare partners. Humanity is at the core of our corporate promise. We put humanity at the heart of everyday health.
"Our interpretation of that is this moment between a patient and a healthcare professional, in particular pharmacists, during the pandemic has been so intimate, so humane and so based on trust that we want to ensure that that powerful moment of humanity has the chance to thrive.
"And, of course, there are several teams involved in managing patient care from proactive wellness through to chronic disease management in a multidisciplinary context.
"But fundamentally, the open access, the free appointment-less nature of pharmacists, the power of their local community knowledge – these are all so important in seeing the holistic patient care that we are right behind, both in the UK and around the world.
"When we think about self care, that can't be achieved without the pharmacists having a really powerful and integrated if not a lead role in that multidisciplinary team."
Additionally, Tess believes in a post-pandemic world, self care can help ease the burden on health systems by keeping people healthy and reducing visits to doctors, just the way pharmacists have done during the pandemic.
A health-economic summary report by GSK highlighted in 2020 how community pharmacy teams could play a prominent role in addressing the healthcare needs of nearly 18 million patients in the UK who visited their GPs every year for conditions that are self-treatable.
The report highlighted that across Europe, including in the UK, pharmacists are the main
suppliers of OTC products, which means they are well positioned to enable self care within the communities they serve in a big way.
Pain points
GSK provides high quality medical information support to pharmacists, and the service is much valued by pharmacists as it helps them to deal with many issues in medicines management, ranging from complex pharmacology to enquiries about appropriate dosages.
Its Health Partner hub provides information on health conditions and solutions in downloadable form which pharmacists can even pass on to their patients.
But how about the pain points of community pharmacists in the UK – what has the company found out?
"We call it the three T's – time, trust, and traffic," answered Tess in response to the question.
"We have seen how pharmacists have been called upon in so many different ways throughout the pandemic. Spending the time that they want with their patients and with their community is a pain point that we identified and would like to help address.
"Secondly, we would like to help with (foot) traffic into pharmacies, particularly with the challenges and opportunities that come with consolidation of chains and the steep rise of online pharmacy. But community pharmacies can have the best of both worlds – wrapping up their faceto-face offering with the convenience provided by online pharmacies.
"And finally, we have seen how public trust in pharmacists has grown substantially as a result of the pandemic. Yet it does seem that the way in which patients and consumers look for health information elsewhere means that there's still a lot of scope for community pharmacy to play a more active role in providing appropriate and reliable health advice in the age of disinformation."
Forging partnerships
A legacy GSK employee, Tess joined the company as a marketing analyst before managing a number of leading brands in Australia, US and later in the UK, in roles with which she could whet her appetite of going into pharmacies.
She had worked as an assistant "in a sweet little community pharmacy" in her university years.
"I rose through the ranks, working in Sydney and Melbourne as I straddled both our consumer and the pharma business – working in marketing roles across our portfolios."
Lobbying governments and forging partnerships with healthcare professionals saw Tess grow further in her career which has culminated in her current role where she heads up the global marketing efforts of a soon-to-be standalone consumer healthcare giant.
GSK demerger GSK is well on track to spin off next year its consumer healthcare business which comprises major brands for oral health, pain relief, respiratory and wellness. The break-up will see the creation of a separately listed company for the pharmaceutical giant's consumer healthcare arm in a joint venture with Pfizer, which will be 100 per cent focused on consumer healthcare, with category leading brands based on "deep human understanding and trusted science".
The other entity within a new GSK will operate as a biopharma company with a leading portfolio of vaccines, specialty and general medicines, and R&D based on science of the immune system and genetics.
GSK Consumer Healthcare – which also includes Novartis's consumer healthcare business following a 2018 merger and boasts of a portfolio which generated annual sales of more than £10 billion in 2020 – is wellpositioned for further growth.
Underpinned by science-based innovation, it is the global leader in OTC products and has leading positions in all key geographies, with the new joint venture bringing together two highly complementary portfolios of trusted consumer health brands.
The company is all set to move its global headquarters from Brentford in West London to a shiny new £120m site in Weybridge, Surrey in 2022.