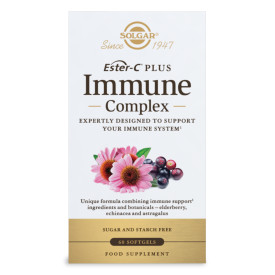 Our health and well-being have never been more important. Every minute of the day our immune system is exposed to many factors such as pollution and pathogens that may compromise our wellness. Having a well-balanced diet that includes fruits and vegetables provides an array of vitamins and minerals that can support immune defences. And, in addition to this, taking supplements can help to provide specific nutrients that are key to maintaining a healthy immune system, the body's in-built defence mechanism.
Solgar® is proud to introduce its latest immune-support offering launching this April-Ester-C® Plus Immune Complex, the high strength sister product to Solgar® Ester C, a new convenient and easy-to-swallow softgel formulation, backed by science.
Containing seven scientifically studied immune supportive nutrients, this complex has been developed to maintain our immune system all year round. These ingredients include:
Ester-C®
Exclusively formulated for Solgar®, it provides 1000mg of Ester-C® that is retained by cells for up to 24 hours. This high-strength form of vitamin C is non-acidic and therefore gentle on the stomach. The formula promotes the normal function of the immune system, alongside other benefits including protection from oxidative stress and normal collagen formation, to support your skin and the function of bones.
Vitamin D
Often called the "sunshine" vitamin, Vitamin D is vital for daily wellbeing and immune health. However, when sun exposure is limited, taking a supplement may be necessary to avoid a deficiency. Getting a helping hand with your daily dose of Vitamin D can be important to help keep bones, teeth and muscles healthy as well as for your immune health.
Zinc 
Zinc plays an important role in immune system function. by helping to improve the skin barrier function and ensuring normal development and function of immune cells like neutrophils.
Priced from £19.99/ €21.99, the new Solgar® Ester-C® Plus Immune Complex also includes a botanical mix of elderberry, echinacea and astragalus – all to support wellness. With extensive research banked to develop this new product offering, the immune-supportive formulation contains additional nutrients for daily wellbeing such as vitamins A, B6, B12 and biotin.
Solgar® Ester-C® Plus Immune Complex launches this April, available directly from https://solgar.co.uk/ and in a number of health food stores, independent retailers and pharmacies across the UK and Ireland.