In an exclusive interview Kim Innes, Teva UK's general manager, calls for independents to embrace change and stresses that the profession needs to speak with one voice. She spoke with Priyankur Mandav…
"Our DNA is still in the generics business," says Kim Innes, adding: "We are one of the largest suppliers of medicines to the NHS. We have volume but we actually believe in pharmacy and never really strayed away from our DNA so you can consider generics as our bread and butter."
Generic medicines make up over three in every four items dispensed in community pharmacies in England. The general manager of Teva UK supports the idea of delivering sustainable and affordable healthcare through community pharmacy.
"We see pharmacy right at the heart of everything Teva does," she says, pledging to do her utmost to support contractors who could be looking to squeeze a bit of extra revenue, if they can, from generic products.
The company knows that unlike in the U.S. where it has a direct patient relationship, in the UK this link can be built and enhanced with the help and support of a community pharmacist who is often a patient's first point of contact for reliable healthcare advice and guidance to pick an over-the-counter medicine.
"I am really passionate about pharmacy, she says, adding: "I strongly believe that pharmacy will be in the forefront of everything going forward."
Innes's prediction might come true going by the wide recognition the sector has earned for going above and beyond during the global pandemic.
"I think they've had their voice heard. I think it will become stronger and louder as the NHS realises that community pharmacies are a bigger and closer solution. There will be much more of an integrated care system, which has everyone together including community pharmacy.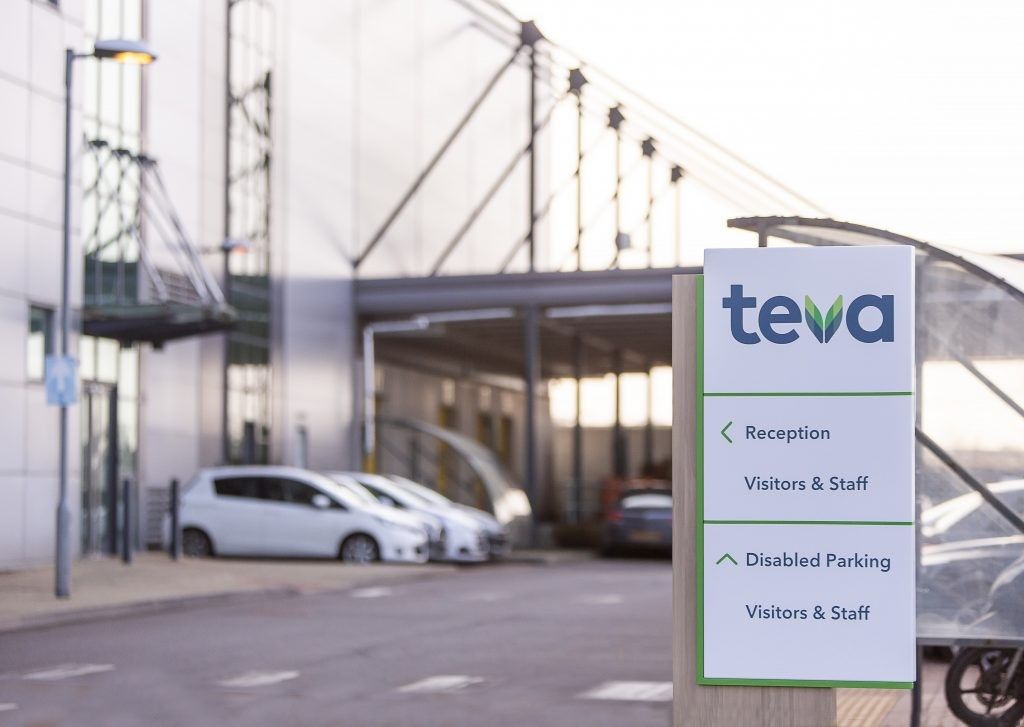 Promote with one voice
"But pharmacy needs to be, in my opinion, a better promoter of themselves, it needs to do more in making sure that the government and NHS are spending more time understanding where the stacks and the cost I think will bring funding back into pharmacy.
"There needs to be one voice of pharmacy, I think it's still fragmented. I think the funding argument is being heard now, but maybe what they hear is what we need instead of what service we deliver. It's really important that people understand everything a pharmacy does."
Innes is a strong believer in the government's prevention agenda in which she thinks community pharmacists have a unique opportunity to help patients practise selfcare.
"There is a big preventative strategy going on, which means there'll be lots more 'P' products that will be coming across over the next few years and pharmacy will have a real part to play, in the preventive strategy that NHS England have got."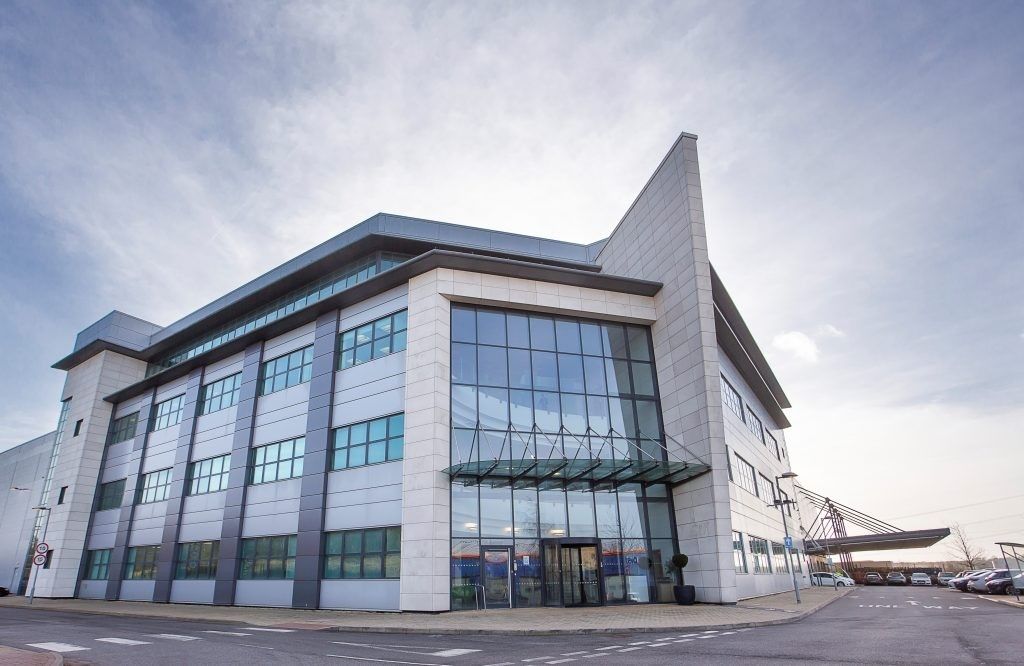 The big picture
Perhaps as a sector, community pharmacy also needs to prepare itself and be ready for what's coming in, she suggests.
For example, in the next five to 10 years, several biologic patents will have expired, which could lead to an opportunity to develop new biosimilars in which Europe is currently in the lead around the world.
Teva already has five biopharmaceuticals on the market internationally, with approximately 20 original biologic and biosimilar products at various stages of development as part of the company's global pipeline.
The company's drug development model combines its traditional strength in generics with innovative drug development and as part of the company's long-term strategy, it has been already been focusing on delivering "precise and personalised treatments" for a range of disease categories such as the central nervous system, respiratory and oncology.
These new drugs are manufactured using the most innovative technologies and have a highly complex molecular structure which is difficult to identify and replicate. Innes sees an opportunity for community pharmacy in these new drugs, where a very streamlined service for patients that need injectables can be offered.
"The future supply pipeline is very much complex generics but that's where actually pharmacy could have a different role to play with patients that do not want to self administer (injectables)."
"Anything to do with an injectable. If you think of what have been doing in terms of Covid-19, if you think about how pharmacies have changed already, they will be in a much better place to help the NHS to continue to be a solution in providing a range of services for patients."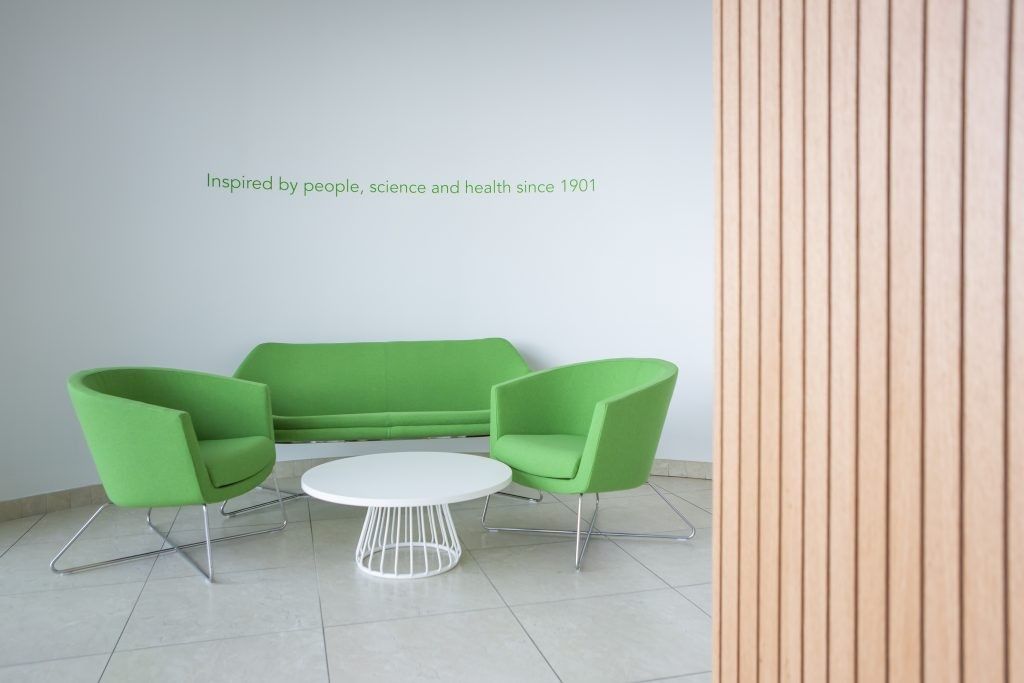 Help for pharmacy
Teva offers a lot of innovative and practical solutions for independent pharmacists. She talks about the pharmacy support services which offer practical tips to help pharmacy teams support both patients and their business.
Teva UK's 'Let's Talk Respiratory' is a good example which includes a digital masterclass that deals with how the diagnosis and management of respiratory disease have changed in light of the pandemic. It goes further and explains how the interpretation of clinical guidelines might need to be adapted to meet the patient's varying needs.
The company claims to be breathing education into respiratory care by proving pharmacy teams and healthcare professionals with a range of educational programmes which are packed with supportive materials and digital learning tools prepared by experts, so they can educate and empower patients living with respiratory conditions such as asthma and COPD – something certainly vital during the Covid-19 pandemic.
"We're a leading player in respiratory in the UK and already have a wide franchise of products in the category. But we are actively looking at the data points to see what we can do differently with regards to respiratory, both on sustainability platform and a compliance platform."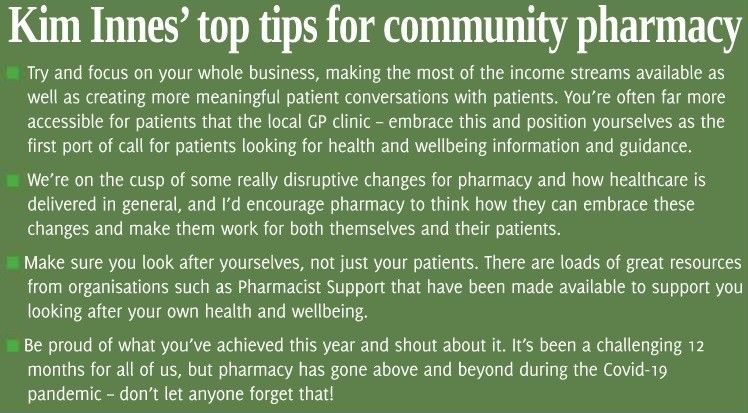 Pearl anniversary
Innes was born in Yorkshire which is also where Teva traces its own UK history in the 1930 when it was knows as Approved Prescription Services or APS, her first workplace which was eventually acquired by Teva in 1996.
She recently celebrated her pearl anniversary at Teva. Despite having floated across many different functions, barring international assignments and a company sponsored general management programme at Harvard University for a year, she has pitched up to work year in and year out for 30 years in Teva.
"It's because Teva is really such an interesting organisation: it allows you to navigate your own career and to be curious," she says, pointing out that she occasionally does get asked why she has chosen to stay forever in the company.
"The biggest thing for me is I am interested in knowing more of what I don't know."
Her talented co-workers have also contributed to her unwavering allegiance for Teva, where she has a free hand to help them unleash their new ideas -not by focussing on KPIs and business processes but by being a "people leader" instead-always ready to adopt a "growth mindset".
"I like to see results through people's eye. I am more interested in how they will achieve those results so it's actually about empowerment. It's about engagement. It's about finding how you get that sweet spot between enablement and encouragement and how you develop people in the organisation in particular with new capabilities."
In Innes, Teva UK too has found its perfect foil: a generalist with a rigorous understanding of business definitions and the wider industry's rules of the game, be it about generics – an arena she has built a formidable expertise in but also the relatively newer entrants such as biopharmaceuticals and biosimilars.
"My background is predominantly in generics, but Teva's such a unique company – we also do complex generics and specialty medicines – all under one hat, everything is done as one organisation."
Inclusion & Diversity
Innes leads the European I&D programme for Teva, which she says still "embryonic" with a lot of work still in progress. But it is one that is borne out of the people. She is passionate about the programme and believes that an inclusive environment with a healthy mix of different backgrounds in the workplace makes a company flourish.
"The more inclusive you can be, the more different personalities you have in the teams. The broader you can seek opportunities within your organisation, the more inclusive you become and the more diverse we will be."
Innes insists that her focus on diversity at Teva isn't just a box-ticking exercise, but is about equal participation and enablement and the process starts at the first stages of recruitment itself, which she says is "completely unbiased: we don't look at names, we don't look at education, etc."
"We see the biggest opportunity to bring new talent in diverse ways to recruitment as well as making sure that we educate everyone internally to understand their biases, to be conscious about my biases and ensure that we give everyone a fair representation."
It's about creating a work environment where all employees feel engaged and valued.
"We encourage people to be themselves, and to bring their true selves to work. We have an open culture but when you have such a culture you need to make time to ensure you can listen to people and learn from them."
Migraine is disability
Innes thinks the conversation around inclusion and diversity should include migraine because it is a disability and sufferers face discrimination at work. The company launched 'Life Effects' – an online initiative that provides information, insight and inspiration about the reality of living with chronic diseases such as migraine.
There are approximately eight million migraine sufferers in the UK. It is a serious public health issue and has a significant impact on the quality of life of the person who has it. A recent Europe-wide survey by Teva revealed that one in seven adults are affected by migraine, with women three times more likely to be affected than men.
"We're positioning it ourselves very much on the women's health agenda because it is more prevalent in women. The challenge for migraine is that there hasn't been anything else and the same Triptans, etc. have been used for over 20 years. It doesn't have the prominence or funding that you might have with Asthma or Dementia."
Now though things appeared to have changed for the better for sufferers of the condition with Teva's recent launch of Ajovy, a preventative treatment for chronic migraine in adults.
Although the injectable is prescribed by a neurologist, Innes thinks pharmacists can easily play signposting role and that's why Teva UK has been pressing ahead with plans to upskill community pharmacy teams on migraine.
"There is a whole raft of things where we feel we can educate pharmacies to really actually understand this disease in a much more open and transparent way."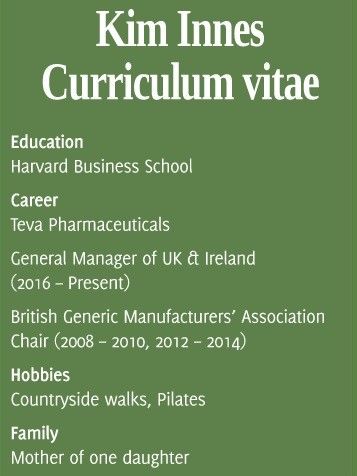 Pandemic lessons
Asked what lessons the pharmaceutical industry has learned from Covid-19, she said with a vaccine now live and many others in sight, Covid-19 has helped the pharmaceutical industry's reputation which had "not being that good in the past".
"As an industry we realised how important a sustainable and resilient supply chain can be and I think we've done a superb job in delivering that and it makes me proud to be working in pharmaceuticals at such a critical time."
"I think the work that the teams are doing on the vaccines is amazing. When the going gets tough, you can bring the right pieces of the jigsaw together and do it for the right reasons. It's a nice place to be, even though it's been manic and really busy.
Innes says that like community pharmacy teams, anyone that works in pharma should feel really proud that they are actually helping – whether by supply any injectables or drugs like dexamethasone and azithromycin – there are parts to play everywhere and it just gives a better reason and great satisfaction for they chose pharma and science.
"The important thing is that we should recognise and celebrate it, be it pharmaceutical companies or healthcare professionals like community pharmacy teams who worked together to keep the traction and the energy going.
"It's opened up a whole lot of stakeholders for everyone else and it's important that it isn't a one-off thing that we keep building and working collaboratively together and ensuring that all our reputations continue to build from this."
On Brexit, she says pharmacy contractors and suppliers do no need to be worried about their access to medicines.
"We have been working for a long time in the background preparing for Brexit, in close collaboration with the Department of Health and the whole industry and we've seen that there is resilience in the supply chain during the Covid-19 pandemic.
"I don't foresee any unexpected challenges as we transition from the end of December to January, as we've been preparing this for a number of years. We're as confident as we can be that no patient will go without a Teva medicine because of Brexit."