A new report commissioned  by the National Pharmacy Association (NPA) has revealed harsh financial realities faced by community pharmacies in England.
The report by Professor David Taylor of University College London warned that 1000s of community pharmacy closure might take place by 2024 in England if the sector was not supported with additional funds.
At the launch of the report titled 'Protecting UK Public Interests in NHS Community Pharmacy', Prof Taylor said: "There will be several 1,000s of closures over the next few years unless we take appropriate action, which doesn't mean to pour money all over it, but it is to fund appropriately when necessary.
"At the moment, if we got a partial collapse in the pharmacy network it would disrupt medicine supply and increase health inequalities… For me, it's missing out on the future development of better and more accessible care, which would be the tragedy of reducing, harming and damaging the pharmacy network unnecessarily."
Situation in England
Professor Taylor's report shows that the impact of rising inflation is compounding years of static funding to create the likelihood of several thousand pharmacy closures, without action to protect the network of pharmacies in England.
Making a comparison with the state of affairs in English community pharmacies, he said: "In Scotland and Wales there's been real progress. In Scotland, for example, the 'Pharmacy First' scheme allows prescribing community pharmacists to treat a wide range of common diseases in the pharmacy setting. In Wales, there have been changes to the contract, or reducing the dependency on dispensing income, and encouraging the development of clinical care.
"We can learn from that in England."
According to the report, in England, the proportion of total health funding used to provide community pharmacy remuneration will have dropped from circa 2.4 per cent to 1.6 per cent in under a decade. Elsewhere in the UK, community pharmacy has not been subject to such extensive cuts.
The report said: "EY's research found that even by 2020 one in three community pharmacies in England were operating in deficit, and that almost nine in ten were reporting being unable to employ additional staff needed to provide extended services. This analysis also contrasts the approach to changing the quality and scope of community pharmacy and wider primary health care services seen in England with programmes in the other UK nations."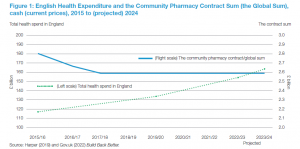 Prof Taylor shared: "The number of community pharmacists per capita in Scotland, Wales, Northern Ireland is about 10 per cent greater than in England. The English system is much bigger as those numbers show. There are some people during the course of the research, who said to me, does this, perhaps mean that in Wales and in Scotland, government is closer to the community pharmacy. In the high street, people are making better decisions because it's smaller scale."
He added: "I don't know whether that's true. But it seems to me a reasonable hypothesis is a danger that in the English system, it's become remote. And the decisions made don't really reflect public interest well enough, as the NHS continues to develop.
"What we want to see obviously is an NHS in which primary care is delivered in an integrated and effective way by all those involved, GPs their colleagues and patches, community pharmacists, their colleagues, and indeed, colleagues like dentists and optometrists."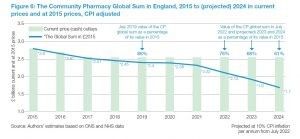 Co-author Dr Panos Kanavos from the London School of Economics and Political Science warned: "The cumulative impacts of inflation could well mean that several thousand pharmacies will soon be forced to close. An 'over-the-cliff' drop in pharmacy numbers would disrupt NHS medicines supply and damage prospects for extended clinical services in the community setting."
"Were the existence of an emergency to be recognised" and the contract sum to be effectively increased by £250 million in 2023, this would still represent no more than 1.8% of total English health spending in 2023, the authors calculate.
Cuts, combined with inflation, mean the value of the pharmacy contract with the NHS in England has shrunk by a quarter since 2015. It currently stands at £2,592 million. In England, community pharmacy now accounts for a lower percentage of total health spending than at any point since 1948.
NPA chief executive, Mark Lyonette, said: "Inflationary pressures are depleting the already limited funds provided by the NHS for pharmacy services. Our members are facing a cost-of-doing-business crisis that is standing in the way of service improvements and ultimately threatens pharmacy closures on a disastrous scale. By asking two distinguished academics to examine the extent of this emergency, we now have independently-compiled data that we hope will underpin realistic financial settlements for pharmacies that sustain vital health services."
Professor Taylor added: "After almost a decade of cuts and flat-rate fee funding with no allowance for increasing costs, there is a serious crisis in England. It will precipitate thousands of pharmacy closures unless action is taken.  This represents an existential threat to NHS community pharmacy in England."
Message for government
The core purpose of the report was to to investigate the implications for community pharmacy of the high inflation rates. Prof Taylor said: "What we've done in this analysis is, develop some statistics and some understandings of inflation, which are robust and conservative, but also develop a narrative and understanding of what's happening and why?
"Despite the recent announcements, we'll have already touched on about the negotiations between pharmacy representatives, the psnc, and the Department of Health and Social Care and NHS England, major threats to the community pharmacy network exist.
"The only thing is there, the amounts of money needed to prevent that are modest, and the benefits, I believe are high."
With regards to the deeper point about planning for primary care, Prof Taylor said: "We've lost sight of what we're trying to build that relationship based system. I think often central decision-makers have been focused on hospitals, they've been focused on big issues like stopping smoking, which of course, it's something pharmacists played a great role in. But what they haven't understood well, is the path of local support people need and I think was not denigrating all the work that people in NHS England, for example, are doing."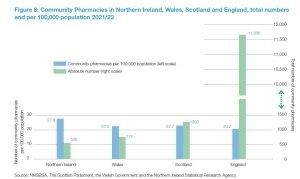 He suggested: "We should learn from Scotland, we should learn from Wales, we should really get UK wide a better primary care plan in place than we have at present.
"It's unfair to say that there haven't been improvements everywhere in the UK about some aspects of community pharmacy throughout the last decade, there have. But sufficient and more progress has been achieved in Scotland and Wales, we should be looking at that. And a key thing in all this is confidence in the ability of community of pharmacists to deliver clinical care, alongside safe medicine supply.
"We lost that faith in around the time 2013 when NHS England was created. It's false that believing that community pharmacists can't provide clinical care for common conditions they can we need to work towards achieving that.
"We've talked about the high inflation rates, and the fact that limited amounts of money could help prevent catastrophic closures. Even if we were to spend 250 million more in 2024, we'd still in cash terms be spending no more than we did in 2015. And in fact, in in inflated value terms, it would still be 25 per cent below the 2015 level.
"But to end on a more positive note, by 2026, all new pharmacy graduates, will be prescribers. That's a tremendous base to build on and get a transformational change in community pharmacy, which will not only benefit pharmacists, the people they directly serve, but the working the overall system doesn't meet population needs."
An NPA-commissioned opinion poll revealed that 60 per cent of people would have to visit their GP more frequently if their local pharmacy closed. 47 per cent admitted that closures would reduce their quality of life. 85 per cent would support more investment in pharmacies if it improves access to NHS services, according to the survey carried out at the end of August.