Viveca Biomed has launched an innovative and clinically-proven bladder support device, Contrelle that offers women immediate relief from stress urinary incontinence (SUI) and provides community pharmacy contractors with a way to build a new consumer base, customer loyalty and sales margins.
The product, named 'Contrelle Activgard', has already recorded millions of sales in Scandinavia over a decade.
The company behind the UK launch is female healthcare business Viveca Biomed, founded in 2019 by Andrew Tasker who has spent 30+ years in senior roles within the OTC and pharma industry.
Contrelle is manufactured, packed and distributed in the UK at Viveca Biomed's factory near Newcastle, with no outsourcing, and thus offering the best possible continuity of supply.
Ahead of the launch, the company commissioned a large consumer lifestyle survey with 500 women over 40 years of age who experience bladder leaks, to reveal the extent of its detrimental impact.
Contrelle Activgard is a safe, discrete, easy-to-use and highly effective, single-use vaginal device, designed to immediately prevent SUI rather than just deal with the leakage.
Instead of absorbing leaked urine, the device is easily and comfortably placed inside the vagina to gently lift the bladder neck, helping to correct the angle of the bladder and provide light pressure to the top of the urethra, whilst reducing bladder mobility and thereby stopping leaks from happening or substantially reducing them.
The product is made of soft, medical grade, body-compatible polyurethane foam.
When fitted correctly, the device should not be felt in situ after a couple of uses. After a decade in use, no allergic incidents have been reported in Scandinavia, the company claims.
Contrelle can be safely left in place for up to 16 hours a day — including when going to the toilet — so it can be used either daily or just when required to help prevent urine leakage, for example: during exercise and for other known triggers.
An opportunity for pharmacies
The product provides an opportunity for pharmacies to build a new consumer base and improvise the category.
Tasker told Pharmacy Business: "We guarantee supply by supplying it directly to pharmacies and provide good margin that would improve the category. This would be an opportunity to boost the category as "pharmacies are losing customers in this category to grocery and many of the pharmacies are making only eight to 12 per cent on sanitary pads."
In a webinar held last week, senior pharmacists and managing director of Prestwich Pharmacy Fin McCaul MD said: "This is a different and unique product. This isn't something that we would be competing on pricing. The challenge that pharmacy has is making their patients aware of the product and how their staff are going to make sensitive conversation with patient. Once they succeed, they will have a unique consumer base for them."
Contrelle represents one of the biggest and most exciting commercial opportunities for pharmacy in decades, said Tasker.
"SUI is one of the most common female health issues, affecting an estimated 1:3 women in the UK. It also remains one of the most intractable and is truly life-affecting as our latest research confirms. With Contrelle's promise of immediate relief from SUI, pharmacies have the opportunity to provide a large and frustrated proportion of their core customer base with the solution they didn't think was possible and so cement their loyalty while improving income with increased margins."
Tasker continued: "There is a major opportunity for pharmacy to work with their general practice and healthcare colleagues to be the first point of contact for continence advice and support, and provide Contrelle as part of a new continence service offering with immediate payment via the product margins."
Cross-selling opportunities also exist as the use of water-based lubricants is recommended for women with vaginal dryness when using Contrelle.
Viveca Biomed will be rolling out a full education and training programme for pharmacy teams to help them learn how to sensitively start conversations about SUI, explain the product, and set up a service offering.
Contrelle is being officially launched in the UK with a PR and targeted radio and press advertising campaign worth £500,000, following a soft launch which included social media and work with health professionals.
The launch also comes after the NICE guidelines were recently updated to include the use of vaginal devices when other conservative options fail to help.
As everyone's shape is different, the device comes in three sizes. Customers' initial purchase will therefore be a special Sizing Kit at rp £6, which contains one of each size so that the customer can determine which one will offer the right level of support and comfort to them.
Customers can then buy their ideal size in packs of five devices for rp £15 (£3 per use) or 30 devices for rp £75 (£2.50 per use). For those using 3 to 4 incontinence pads or more a day, the cost benefit becomes comparable based on reducing the level or worry and the inconvenience. Packs are VAT zero rated for personal use – no instore declaration required.
Tasker also responded to Pharmacy Business' query on safety and usability of the product as well as environmental concerns.
He said that the product has an extensive data base as it has been used over 10 years in Scandinavia by approximately six million people with no complain of any allergic reaction. Some women get accustomed to the product immediately while others might take two to three days, he added.
He also assured that the product used 'long-term biodegradable' material with no harm to the environment. It is not recommended to use the product while menstruating, "we would advice them to change it three or four times in a day if they are using it to optimise hygiene."
Contrelle Case Studies & Testimonials
Dr Aggy York – GP, mum and triathlete: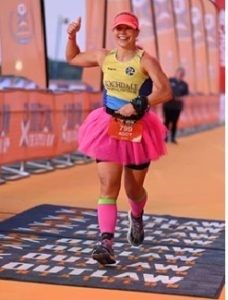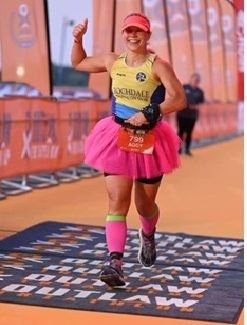 Busy 42-year old Rochdale GP, and mum of two, Aggy York loves to run – in fact it's been her passion for the last 6 years.
However, total enjoyment of her passion has been held back by a persistent problem: stress incontinence.
"One pad was never enough, and there was no question of wearing fashionable brightly-coloured, skin-tight leggings which would immediately give me away."
Determined to find an answer, she decided to take a different approach and Googled the problem – not what she would normally advice as a GP – and found Contrelle.
"It was different to anything I'd come across to date and promised to work pretty much immediately. At £6, including delivery, I thought: what have I got to lose, so I placed an order."
The kit duly arrived and Aggy followed the instructions to the letter, using a Size 2 device to start with to assess what would provide her with the right level of support and comfort. To put Contrelle to the test, Aggy didn't embark on just any run: she went for a 9-mile fell run, hopping over obstacles – something normally guaranteed to cause serious leaking – and without wearing an absorbent pad.
"I'd always felt that this was just my issue. Now I know that's not the case, I'm not only keen to pass on news about the solution I've found, but to get everyone to speak openly about a problem that women still seem to feel is taboo and could be stopping them from enjoying all important exercise. I'm now a Six Pack Revolution coach and will certainly be bringing the topic up in sessions. And after my own experience, I'll also ask a lot more questions of female patients who present with bladder weakness issues."
Natalie Silverman – mum, broadcaster and founder of the Fertility Podcast: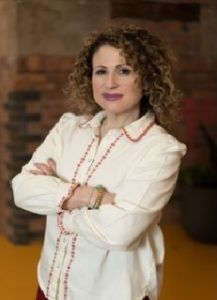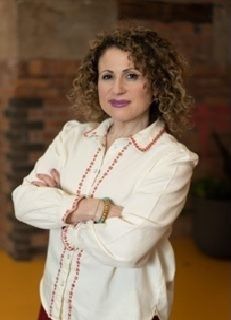 Former radio presenter and successful voice-over artist Natalie Silverman founded the Fertility Podcast after struggling with fertility issues prior to successfully giving birth to her son seven years ago. But in the three years before his birth and increasingly so afterwards, 44-year old Natalie has faced a different but still daunting challenge in the form of stress incontinence.
"I first experienced the problem about 10 years ago. I've always enjoyed exercising – from doing Yoga to playing tennis – but in preparation for my wedding I really took it up a notch, including doing more running and working with a personal trainer who got me flipping over tyres and doing some quite intensive repetitions. At the end of a session I was mortified to find that I'd usually leak so I always had to wear something around my waist to hide what was happening."
"I don't remember the exact question I typed into Google but whatever it was Contrelle popped up at the top of the search and I was immediately interested.
"I'd ruled out going to the GP, thinking it wasn't serious enough, plus I assumed it would be expensive and, post-pandemic, was it even a realistic option. But seeing the sizing kit at such an accessible price and with its claims I had to give it a go."
When the sizing kit arrived, Natalie wasted no time in trying out Size 2, as the recommended starting point to find the best fit. With Contrelle in place, she then did something she hadn't done in a long time: 20 minutes of high impact exercise including jumping jacks which she previously couldn't risk trying. The result was immediate and took her completely by surprise.
"I couldn't believe it – no leaks – not a drop. I just felt complete joy – it was totally liberating. At last, I was in control again and it felt truly lifechanging."
Of course, there was one important test still to do and only one way for a podcaster to mark it before spreading the word: mobile phone in hand, Natalie headed for the trampoline to record a joyful video to post on social media.
"Finding Contrelle has been a complete game-changer for me. I don't have to worry any more, which is such a relief. I've also found that using it regularly has positively impacted my muscle memory in that area so I'm proud to say that I've even been OK on occasions when I don't use it – like at a recent music festival when I was dancing around with my son on my shoulders.
"And when it comes to playtime with my son? Well, I've literally got my bounce back in more ways than one." View Natalie's 'bouncing' post here: https://youtu.be/tnNxLtpEtv8
To place orders, pharmacies should call: 07375 789677 or 0330 2292161