With summer approaching, allergy expert Max Wiseberg says community pharmacists can help patients understand the essential difference between symptoms of hay fever and Covid-19…
A bout 15 to 30 per cent of the UK population suffers from hay fever and there has been a definite increase in the number of moderate to severe hay fever sufferers, with sufferers experiencing more frequent and longer seasons.
And now that the government has announced its plans for the easing of lockdown, community pharmacists can expect to see many more of their patients presenting with more severe symptoms than usual, as there will be more opportunities to spend time outside and be exposed to higher levels of pollen.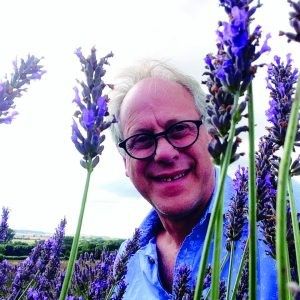 Symptoms
Common symptoms include sneezing, a runny stuffed up nose, itchy, watery eyes, nasal congestion and a general stuffed up feeling in the nose and throat.
Some experience itching around the face and mouth, with an itchy palette, and burning sensation in the throat. Headaches and wheezing can also occur, as well as an overall achy feeling, or build-up of pressure in the facial area. The sinus area can become painful and constant nose blowing can leave sufferers with skin irritation. This can lead to tiredness and affect sleep, which in turn reduces energy.
The symptoms of hay fever are easily confused with those of Covid-19, so I have produced a table to help community pharmacists and their patients understand the difference.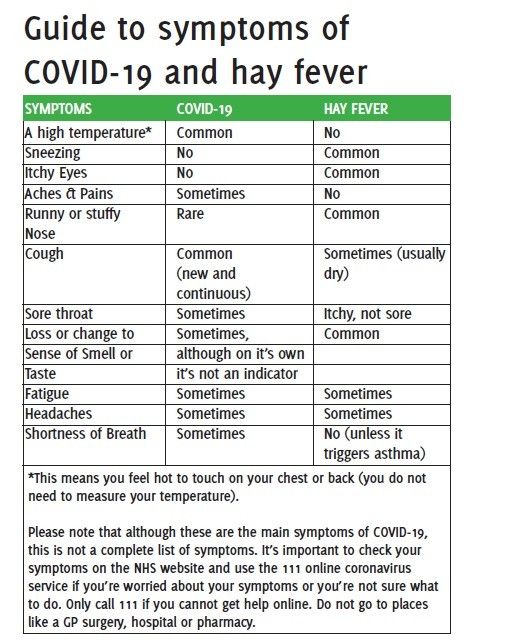 Treatment
Several different groups of medicine have been developed for treating allergies. The common ones are:
Organic allergen barrier balms such as HayMax applied to the rim of the nostrils and bones of the eyes, limit pollen entering the body where it may cause a reaction.
Antihistamine tablets and capsules. Non sedating antihistamines such as Benadryl. – can relieve most hay fever symptoms but less effective for nasal congestion.
Antihistamine nasal sprays-can quickly ease itching, sneezing and watering but generally only proof against mild symptoms.
Steroid/Natural nasal sprays and drops – reduce inflammation in the nose; work best for clearing nasal symptoms – itching, sneezing, watering and congestion– and sprays sometimes clear eye symptoms too.
Eye drops – may reduce itchy, watering, swollen eyes.
A neti pot – a container designed to rinse debris or mucus from the nasal cavity.
Immune Support immune boosting wellness formulas.
Quercetin complex tablets- quercetin is a powerful antioxidant believed to inhibit the release of histamines. The complex tablets usually contain bromelain which helps the body absorb quercetin.
An acupressure band which can be used even when symptoms start.Patients can take an antihistamine, a steroid and an organic allergen barrier balm in combination to help combat the symptoms of their allergy. There are many different brands of each type of hay fever medicine, so if one active ingredient doesn't work, suggest that they try a different one. Your patient may well find, for example, that loratadine works better than cetirizine.Other advice

Keep doors and windows closed during high pollen count days, to limit pollen flying into the home, where it can stick to furnishings.
Wrap-around sunglasses limit pollen flying into the eyes when outdoors, and also reduce stress on the eyes from bright sunlight.
Wash the face throughout the day and ensure that hair doesn't go in the eyes.
Wearing a hat when outside and removing it when getting inside can stop pollen from getting in the hair.
Taking showers once home will rinse pollen from the hair and body. Changing clothes can also help.

Patients with hay fever tend to sneeze a lot

Patients with hay fever tend to sneeze a lot and so run an increased risk of infecting others through spreading airborne droplets. Alert patients to The Department for Health's advice on keeping homes ventilated, as letting fresh air in can reduce the risk of infection from coronavirus by over 70%.

It's important to make patients aware of the fact that many people are spending more time indoors with increased ventilation which could mean an increased exposure to pollen. And this in turn will result in more hay fever sufferers rubbing itchy eyes and blowing noses using hands that might have come in contact with coronavirus. And this could potentially increase their risk of becoming infected.

Causes calendar

My calendar explains the causes of hay fever and other airborne allergies at specific times of year…

January – Alder and hazel pollen
February – Start of the peak of alder and hazel tree pollen. Start of elm and willow pollen.
March – Start of early season hay fever, and of birch pollen. Also alder, hazel, elm, willow tree pollen around.  Start of ash, oak and oil seed rape pollen and peak of elm and willow season.
April – Alder, hazel, elm, willow, birch, ash, oak, oil seed rape tree pollen. Peak of birch and ash pollen season.
May – Start of main grass and weed pollen seasons – with willow, birch, ash, oak and oil seed rape also present. Peak season for oak and oil seed rape.
June – Peak of grass pollen season, with birch, ash, oak, oil seed rape, grass and weed pollen.
July – Peak of grass and weed pollens.
August – End of grass and weed pollen season.
September – Peak of fungal spores.
October – end of fungal spores peak.
November – Indoor allergies prevalent because of more time spent indoors, e.g. dust, mold and pet.
December – Same as November, but also including Christmas Tree Syndrome.

Max Wiseberg is an airborne allergens expert and creator of the HayMax allergen barrier balm.