Pharmacy Business Pre-Registration Pharmacist of Year Yasmine Haq is one of the rising stars of the profession. A passionate young pharmacist, she spoke with Priyankur Mandav about her constant quest for learning, giving back to her alma mater and how she overcame the grief of losing her mother….
Born into a pharmacy family, it seemed quite inevitable that Yasmine Haq was going to become a community pharmacist. She forayed into the profession on her 16th birthday as a Saturday girl in a community pharmacy in Stockton on Tees also working the odd evening and most holiday periods across the North East.
But a "not so great" A-level result left her at a crossroads. Utterly confused, uncertain and not knowing what sort of career she wanted to pursue, Yasmine decided to take a year out. She found work at Knights Pharmacy branches where she spent a year "working solely as a dispenser"- a solid foundation to start off her journey into pharmacy.
"Within that year I ended up working six days a week in the community for Knights pharmacies branched all over the North East of England," she said, adding: "I had matured thankfully and knew that pharmacy was my goal.
"I had not only become a very good pharmacy assistant but had grown to enjoy the role, the lifestyle and the complexity of the job at times. I loved being in different stores and interacting with all kinds of patients."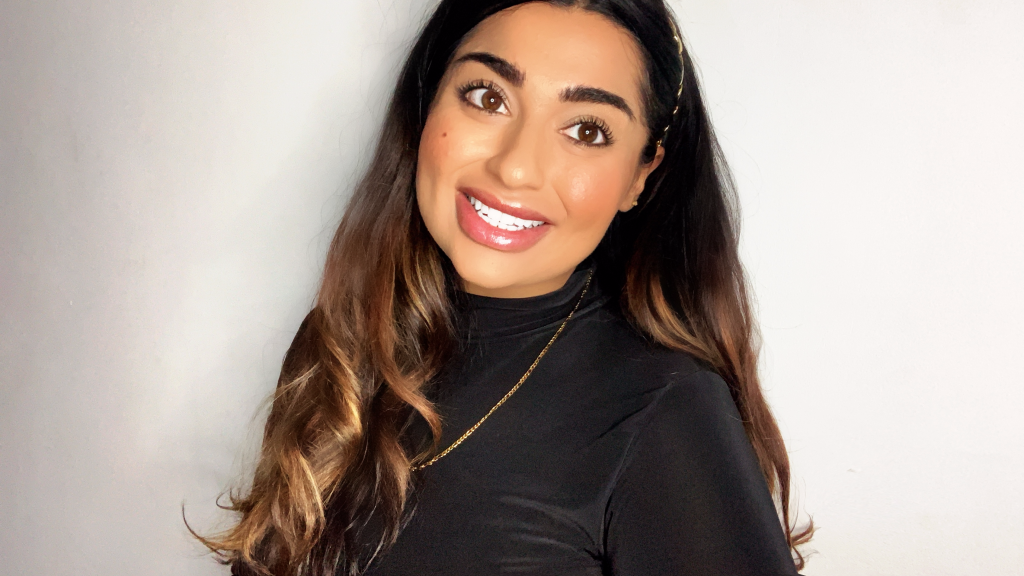 Following the gap year, she underwent a one-year foundation course in Biopharmaceutical Science at Sunderland University which sparked her curiosity in biological molecules and how they could be designed, manufactured and used as medicines. A year later she met the entry requirements of getting herself automatically transferred on to an MPharm programme after scoring over 70 per cent in the exams.
"I learned from my immaturity during my A-levels and the year out allowed me the time I needed to know what I really wanted to do. The foundation degree helped because to do a degree like pharmacy you've got to work really hard, it's very intense and doesn't come that easy," she said.
But Yasmine's real rollercoaster of emotions ensued when she entered the third year of her MPharm degree. In December that year, her mother, Denise, was diagnosed with a terminal liver cancer at the age of just 53 and was told she had only a few weeks to live. It came out of nowhere because Denise never had any major health issues.
"It progressively went up and down. I think the condition that she had, one day was good, then the rest was bad. And it was just constantly up and down. I was struggling caring for my ailing mother and trying to get my degree, but I just carried on.
"The third year in an MPharm course is very important because of the dissertation. I found out the news over the Christmas period and we had an exam and I had only done half of the dissertation and I hadn't revised but I took my exam and passed."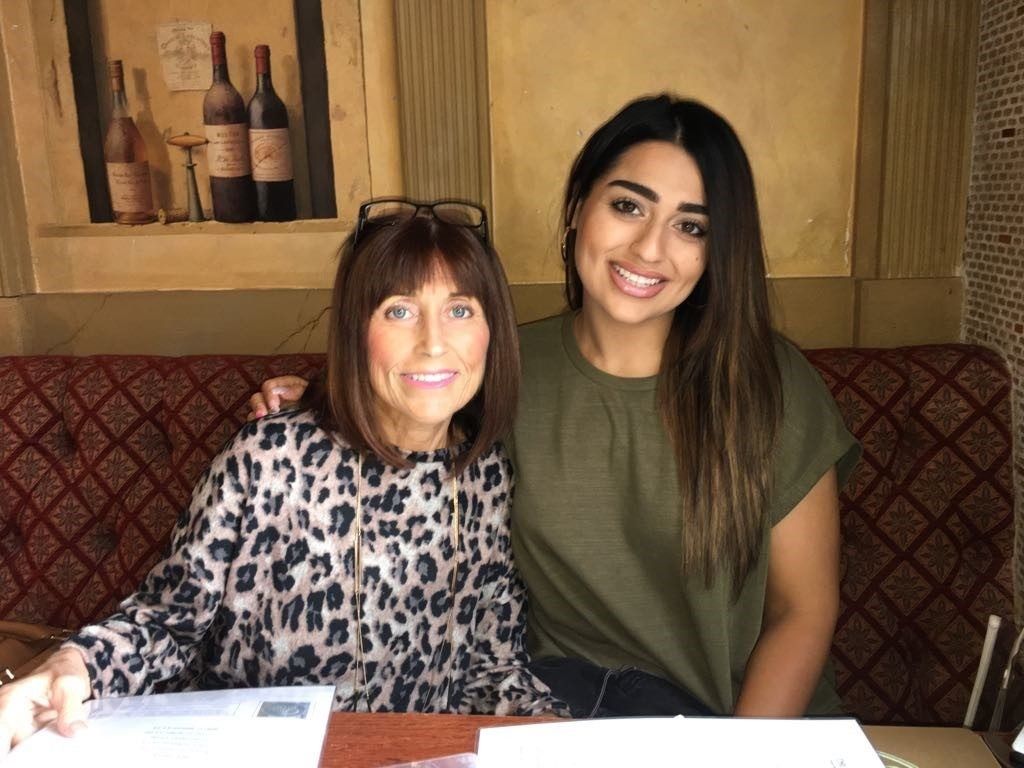 Yasmine's university nominated her for a graduation award – the Jemma O'Sullivan Award for Care and Compassion in the Practice of Pharmacy for showing great resolve during the last months of her degree while she juggled between caring for her mother and preparing for her final exam.
She began her pre-reg year at Knights' Eilbeck Deneside pharmacy and when she became a provisional pharmacist she was moved to the Escomb Road branch – coincidentally the same store where her dispenser mum first met her pharmacist father.
"That was strange, very strange. But being with Knights for so long I felt that not only I would flourish and excel in one of their stores, they had become my support network also. It was only right I stayed on to see through the opportunities they'd given me and do what I did best."
Yasmine is highly valued across Knights' network of pharmacies in the North East where she works as a pharmacy manager. Her staff commend her for her great attitude and ethos while the management rely heavily on "the rising star" as their NMS lead and systems expert.
She took the lead in ensuring that NMS consultations were recruited, counselled and followed up in line with the service specification. As the digital expert of the pharmacy, Yasmine stayed on top of every digital solution- from electronic CD registers to real time exemption checking and from online ordering to FMD compliance, whilst ensuring that the team around her was trained to understand and utilise all the new technology.
Throughout her pre-reg studies, Yasmine showed an adorable attitude to her workplace-always pushing her boundaries to ensure she maximises her pre-reg year. Without being requested by the company, she enrolled herself and completed injection site training, ear syringing and phlebotomy courses because she wanted to take every opportunity to better herself and prepare her skills for practice as a pharmacist.
"During pre-reg your main focus is obviously to learn as much as you can to pass the exam and carry such skills with you for when you're qualified. On top of this, you need to be happy in your working environment.
"It's a shock to the system going from student life to working full time and it does take time to adjust. You have to take into account what your strengths and weaknesses are and apply them to either role. For example, I enjoy patient interactions, whether it be an OTC problem or Rx query and building that rapport with patients."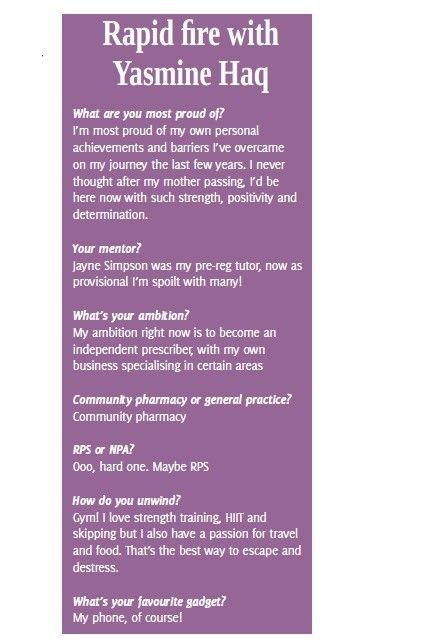 After undertaking the M&K Update Ear Care course in her own time she gained such superior knowledge that her tutor had the confidence in her ability to refer any patient seeking ear advice to her.
Entirely off her own initiative, Yasmine adopted the role of an 'owings expert' when the challenges of stock shortages at the start of the pandemic created a much-needed focus in ensuring that medicines were sourced from various suppliers or alternatives requested from the prescriber. She saw this role not as a burden but a necessity in providing excellent care for her patients.
She also worked closely with the local surgery to develop a good relationship, spending time talking to and understanding the challenges in the surgery and helping to resolve them.
Yasmine has also taken time off to support her alma mater Sunderland University. Due to her past record of public speaking and support to individuals with personal challenges, she has also been requested to attend the university during their dispensing labs to support students and bridge the gap between education and real pharmacy.
Yasmine is currently splitting her time between community pharmacy and general practice as the two roles complement one another and allows her to bring the best of both worlds to her practice.
"Working across two sectors is extremely beneficial and I believe the two work really well together."
She is currently enrolled in CPPE course which she is hoping will lead on nicely to completing the independent prescribing course that she wants to complete very soon.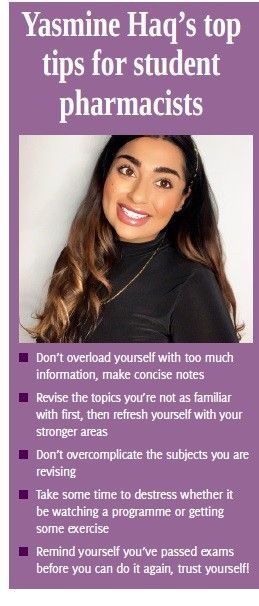 Yasmine will be taking her delayed summer 2020 pre-registration assessment for provisionally registered pharmacists in mid-March, but she has yet to know where she will be sitting her exams and exactly when.
"I wouldn't say I'm overjoyed with the GPhC with regards to the exam however it's hard when I'm not the one sorting the new system out. It's been tough on us provisionals and like everything it could've been handled better.
"But at the end of the day, it's happening now and I'm hoping to just get it out of the way and push forward. Who knows, all the real-life experience may be worthwhile and increase our chances of passing."
Commenting on winning the Pharmacy Business Pre-Reg Pharmacists of the Year 2020, she said: "I am utterly flattered to have been chosen as Pharmacy Business' Pre Reg 2020. I didn't think
I'd ever be thought of in this way. It certainly has given me an extra boost of confidence for the upcoming exam and for the future. I'm absolutely ecstatic!"