Global consumer healthcare company Haleon has launched a new center of excellence for a global leader in consumer health which will bring together world leading academics in human behavior and frontline healthcare professionals including community pharmacists.
Unveiled at the International Pharmaceutical Federation (FIP) Congress in 'sunny' Seville, Spain on September 20, the Centre will operate as a community of healthcare professionals and specialists in behavioral science, health psychology and the social sciences to solve some of the most pressing everyday health challenges.
Named the Centre for Human Sciences (CHS) the initiative will be the first major programme for healthcare professionals since the Haleon's launch on July 18 as an independent, global leader in consumer health.
The Centre's mission is to support practising health professionals – pharmacists, pharmacy assistants and dental professionals – in serving their patients and communities. Combining science with deep human understanding, CHS will bring expertise in physiology together with human sciences to deliver real world-solutions and tangible interventions, resulting in measurable improvements in health outcomes through sustained behavioural change.
The Centre is facilitated by Robert Horne, professor of Behavioural Medicine at UCL School of Pharmacy, who started his career as a practising pharmacist but later chose to become a behavioural scientist when he saw an opportunity to address issues around psycho-social factors that acted as a hindrance in pharmacy practice.
Speaking to me in an exclusive three-way conversation alongside Tess Player, the global head of healthcare professional & health influencer marketing at Haleon, on the sidelines of the FIP Congress 2022, Prof Horne expanded on what the Centre was all about and how it would work.
"We've got some good ideas, but it's not a pre-filled prescription that we're going to deliver at scale from the start. What Haleon is trying to deliver is a genuine co-design with the pharmacy profession, and the co-creation of what those solutions are.
"So it's coming in and saying, 'look, we think we've got some tools and solutions. Let's work together to develop this into pragmatic programmes that really enable you to deliver what patients want and what you want to deliver for them.
"If I think back to my younger self, I really wanted to do this as a young pharmacist. I wanted to be front of house. I wanted to get out there and make a difference to people and it worked. I think in my practice, I felt that, I could see it and it made a difference.
"The reason I moved from pharmacy into becoming an academic by doing a PhD in Psychology was that I recognised the psycho social factors as a gap in practice. How could I be better at that? How could I understand that better?
"If we stand back and ask ourselves what's the unique selling point pharmacy, one of the things that suggests itself to me is this availability of pharmaceutical and medical scientists accessible within the community. What a great offer!
"There's lots of opportunity to reconfigure, think about and develop that offer, and how we do it needs lots of partners. Haleon as a partner will be very helpful in doing that – delivering that offer of a pharmacy in the community. But crucially, pharmacy itself needs to be engaged with it and all of the solutions need to be co-designed and co-created with frontline pharmacists.
"And what interests me in the Centre is that philosophy and that approach. We don't know exactly what it's going to look like. But that's actually part of the philosophy, because it needs to be not just predetermined, but rather informed by the science in collaboration with real world practice. And I think that's pretty exciting as a venture."
The Centre, according to Prof Horne, will bring together all aspects of sciences – biological, social and phycology – to benefit the understanding of a patient's journey through medicine. It will be trying to bring those things together, but not in an academic and a theoretical way.
"Our health is determined by all sorts of biological, psychological and social factors. But in traditional pharmacy services, it's fair to say that the emphasis broadly is on the biomedical aspect: 'Is this the right drug? Is it safe? Is it being provided in the right way.'"
He argues that pharmacists can have just a minute worth of interaction with their patients. The manner in which they engage with the patient in that limited time will have a profound effect on how the patient perceives the quality of that interaction and the care.
"If they introduce themselves as 'here is your medicine and here's how to take it' they will be less impactful than if they said, for example, 'I'm your pharmacist. Is there anything you'd like to ask me? Is there anything else we can do to help you?'"
The CHS community will design, pilot, implement and evaluate solutions in real world settings. It will tackle issues one at a time, starting with pain management for the inaugural programme because it has identified pain as the most common reason people seek healthcare and is the leading cause of disability in the world.
Haleon says it has long championed the role of pharmacists and pharmacy services in pain management and therefore it strongly believes that with the right support, an enhanced role in pharmacy would be of great benefit to patients and healthcare systems more broadly.
However, the company operates across 170 markets globally, and its current product portfolio spans five major categories – oral health, pain relief, respiratory health, digestive health and VMS.
Asked to expand on the initiative, its first pilot and what the expected outcome was, Ms Player said: "We're tangibly saying this to pharmacists: come, register and get involved in the community. Let's all be part of this journey together. The first one will be pain management. We will treat all pharmacists that will have registered with CHS as a single community because we think that cross-border fertilisation of ideas and insights will be really valuable and rich.
"When we get to the prototyping stage in our human-based design thinking, it is then that we'll be really specific about which market we will pilot specifically with. Once we've gone through that piloting, testing and validating phase, that's when we'll know where the creases are and iron them out. It's at that stage that we think the community kicks back in to be advocates for that particular pilot and results.
"We would look at what specific actions that a community pharmacy can take in their day-to-day practice without, of course, adding an additional burden to that day – actions that actually sharpen their skills and give confidence to pharmacists and their teams to make sure that those interactions are much more powerful than they have been because now they've got that knowledge base.
"But the other thing that the pilots will tangibly deliver for us is give us an idea of what is that change management curve that pharmacists themselves need to go on? And that's where we're wanting to pilot these and work with the local knowledge. How did they do that? How capable do they feel with the confidence that they have in order to address this in a different way?
"And what did we learn as a result so that when we come to scale those initiatives, then you can give really tangible tools, tips and techniques to the pharmacist themselves such that they can have an impactful 'moment of interaction' with the patient. Those are the outcomes that we'll be looking for in this initiative and it will be about the programme itself and practical tools for pharmacists."
All health professionals included in the initiative, which will include a number of community pharmacies, will have the opportunity to be involved in the Centre in several ways in sharing insights – through involvement in, and contribution to, the CHS' multidisciplinary teams; contributing to design thinking – through providing perspectives on key health challenges in their locality; piloting interventions in the real world, within their healthcare practices; and finally, becoming an advocate for the CHS – through regional representation of the centre's work.
During a panel discussion held to unveil the Centre earlier, Ms Player said the potential for the application of human sciences to help improve people's health by influencing behavioural change was astounding.
"The key to unlocking this lies with health professionals. While primarily students of medicine, their changing roles require them to become experts in influencing patient behaviour. This is where we can help.
"We have long heard from practising health professionals that they would benefit from greater opportunity and resources to upskill themselves in behavioural and social sciences in an easily accessible way.
"Ninety-one per cent of pharmacists would like more support to develop strategies for helping patients adopt new and sustainable health behaviours. With the launch of CHS, we are committing to removing this barrier so they can focus on improving everyday health outcomes in the communities they serve.
"Through a deep understanding of the human factors behind health decisions and behaviours, and the development of practical solutions, the centre's community can tackle some of the very real challenges pharmacy professionals experience. This is just one example of how Haleon is delivering on its purpose and raising the bar in the level of support for health professionals, patients, and everyday health."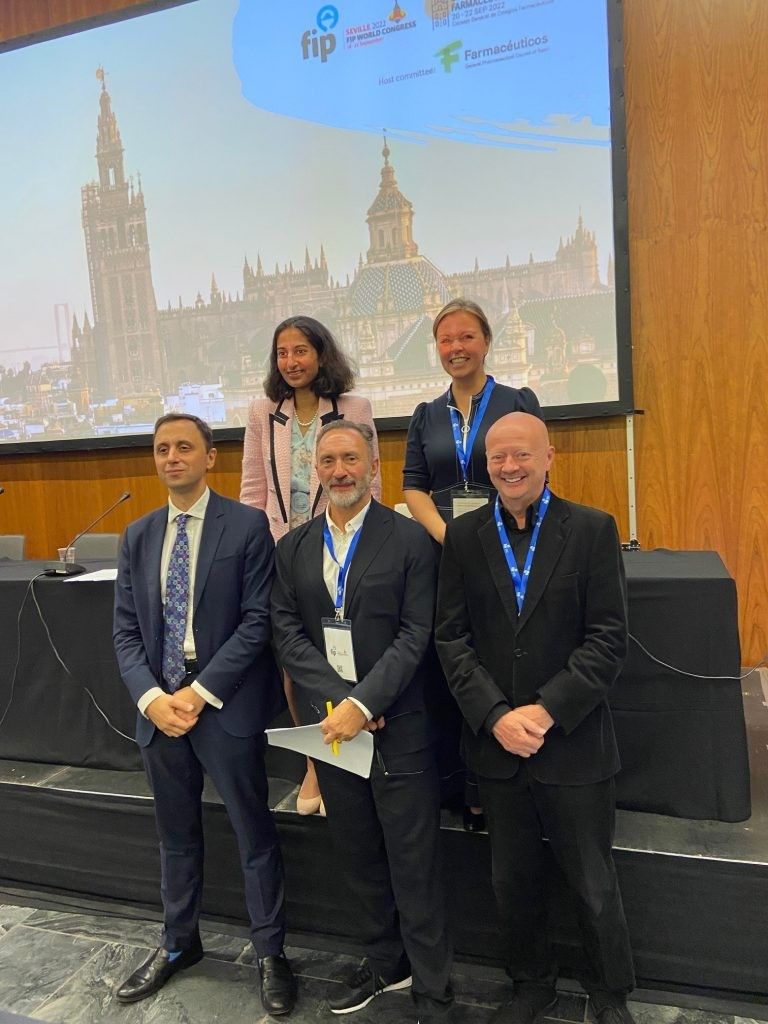 Ivo Vlaev, professor of Behavioural Science at Warwick Business School, a panel guest at the launch of CHS, said it was "an important and timely initiative as we know more than ever that the application of human sciences, including behavioural and social, can help improve people's health. This unique collaboration brings with it the opportunity to shift the self-care paradigm and drive better health outcomes."
Another panel guest, pharmacist Thorrun Govind, highlighted some of the practical challenges that a practising pharmacist faces on a daily basis when it comes to pain management. She spoke of the lack of referral pathways available to community pharmacists, particularly regarding dental pain.
She highlighted the importance of working with GPs to help change patient perceptions regarding where to access care. Ms Govind also raised the point that there is stigma regarding the use of painkillers and in some cases patients visit the pharmacy for advice as they do not want GPs to know they are seeking extra care regarding their pain.
The launch of the CHS comes at a crucial time. A recent survey undertaken by Haleon revealed that 90 per cent of pharmacists across Europe and the US believe that the role of the pharmacist has changed, requiring them to have greater expertise in influencing human behaviour and choices in patients' health.
By Priyankur Mandav