Tesco, one of the leading pharmacy chains in the UK, has been allegedly accused of forcing some locum pharmacists to accept lower rates or it will cancel their booking. The issue has been brought to the notice of the Pharmacists' Defence Association (PDA) by some of its locum pharmacists members.
"Some locum pharmacists who had existing confirmed bookings at Tesco stores have reported to the PDA that the company has contacted them to say that if they do not agree to accept lower rates than have already agreed, the company will cancel their booking," said PDA.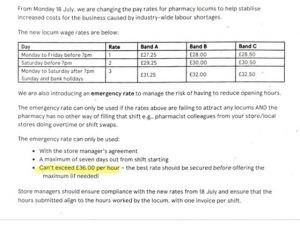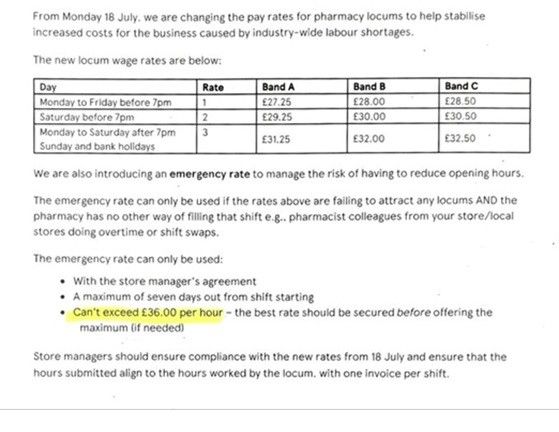 "The reported messages follow a communication from Tesco setting self-imposed so-called "wage rates" for locums. This is confusing as locums are self-employed and therefore should be able to negotiate rates with their clients just as any other independent supplier can do.  Using terminology such as "wage rates" is more indicative of an employer-employee relationship and could undermine the status of the locum market in community pharmacy. Employees are also entitled to various extra benefits and have greater employment rights."
PDA shares examples of the messages received this week follow: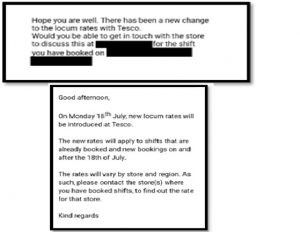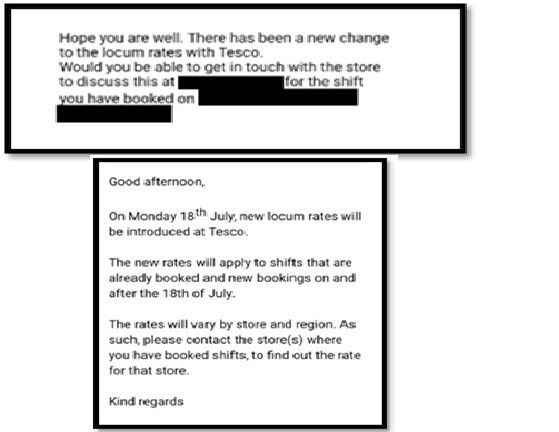 Concern raised over decision to keep the pharmacy close
The association also noticed that on various social media platforms it has been stated that the national shortage of pharmacists is causing the closure. PDA said, "Regulations state that a responsible pharmacist must be at the pharmacy for it to open and operate safely, and therefore, if the locum shift is cancelled, and no other pharmacist is engaged to cover the shift it must be closed, denying patients and communities the much-needed access to a pharmacy.  However, there appear to be no financial penalties for the business in closing, and they will still be able to receive payment from the NHS."
"If a locum shift was agreed in advance but is cancelled by the employer, resulting in a closure, the PDA believe no reasonable person would describe that as there being a shortage of pharmacists."
"In one part of the country, after the following screenshot relating to closures was shared multiple times on social media, it seems to have been deleted from a Facebook page called "Northallerton Community Champion", said PDA.
"The page has thousands of followers and although it does not identify itself as being managed by Tesco, it seems to almost exclusively promote Tesco community involvement in that area and provides updates, talking in the first person when speaking about that Tesco store."
PDA has urged, "If any locum did have a booking for Tuesday 19th, Saturday 23rd or Sunday 24th July at Tesco, North Allerton which was cancelled, they should contact the PDA with details.  The PDA also invite locums anywhere in the UK who experience similar treatment, to share evidence to support our campaign against these closures."
"The epidemic of avoidable community pharmacy closures is truly shocking.  None of the Chief Pharmaceutical Officers, Health Ministers, Regulators or national NHS bodies should be unaware of this issue and the potential impact it has on patients and the public."