The Royal Pharmaceutical Society (RPS) brought together a wide range of pharmacists, pharmacy technicians and pharmacy organizations from across Scotland at the Scottish Parliament on Monday (3 October) to support people living with disabilities.
The meeting was chaired by Jeremy Balfour MSP, Convener of the Scottish Parliament's Cross-Party Group on Disability, and the meeting was also attended by the Chief Pharmaceutical Officer Alison Strath.
Attendees of the meeting committed to bold actions to support people living with seen and unseen disabilities to work in pharmacy.
Last year, a survey of RPS members identified that living with a disability was considered to be the biggest barrier to working in pharmacy.
This year, RPS is running a disability in pharmacy awareness campaign, to highlight some of the barriers and challenges raised by RPS members and to work with stakeholders across pharmacy to overcome these. Yesterday's conversation at the Scottish Parliament was a significant step in achieving this.
The meeting heard from pharmacists with lived experience of disability, pharmacy employers working to support pharmacy employees living with disabilities, pharmacy's regulatory body (General Pharmaceutical Council) on its disability strategy and the National Pharmacy Technicians Group Scotland.
Everyone taking part in the meeting agreed that to effect change for pharmacists and pharmacy technicians living with a disability, it is crucial that there is cultural change.
Key to this is encouraging a supportive, open and safe culture so pharmacy team members feel comfortable to discuss their individual circumstances with employers.
Solutions suggested by meeting attendees included:
Providing different ways of working to support pharmacists and pharmacy technicians with disabilities.
Making flexible working the norm.
Encouraging pharmacists and pharmacy technicians to provide more information about what support they may require.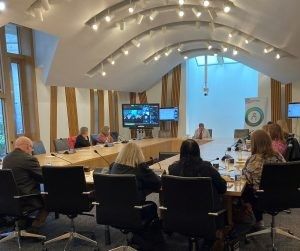 Every organisation attending the meeting agreed to take the discussion back to their own networks, to stimulate a discussion about how they could contribute to ensuring pharmacy team members living with a disability are better supported.
Commitments made by the organisations included:
Pharmacy employers having open conversations with employees to ensure they are supported.
Pharmacists living with disabilities encouraging their peers to speak up and tell their own stories of working in pharmacy with a disability to raise awareness.
Influencing workplace culture change, including by highlighting disability related micro-aggressions.
Collaborative working across pharmacy organisations to support pharmacy team members living with disabilities.
Jeremy Balfour MSP who chaired the meeting, heard directly from pharmacists and pharmacy organisations across Scotland about what some of the challenges are for pharmacists working with a disability.
Jeremy said: "There was a real commitment from everyone represented to working together to achieve change, particularly in workplace culture, to make it easier for pharmacists to discuss their individual circumstances with employers.
"As Chair of the Cross-Party Group on Disability I will be supporting the Royal Pharmaceutical Society to raise awareness of its disability in pharmacy campaign, so that together we can effect change."
Clare Morrison, Director for Scotland at RPS added: "We know from our workforce wellbeing survey that that working in pharmacy with a disability is a huge barrier to entering or staying in the profession.
As pharmacists' professional leadership body, we are committed to ensuring our members have access to the same employment opportunities. That's why this roundtable is so important.
"I look forward to continuing collaborative working with pharmacists and pharmacy organisations across Scotland to ensure we have a pharmacy workforce which is inclusive and reflects our society."