Pharmacists in the town of Barnoldswick in Lancashire are reportedly suffering from various problems including a lack of medicines and the movement or loss of pharmacy staff.
Problems, including delays with supply of insulin, were reported at a recent Pendle Council West Craven meeting.
And this week the head of one pharmacy chain, Whitworth, highlighted a range of issues faced by his teams including supply chains, costs, loss of staff and NHS reimbursement for contractors.
In Barnoldswick, queues have formed inside and outside pharmacies as people attempt to get prescriptions. Some said they had to wait for days to get what they needed, had made repeat-visits to pharmacies and were unsure when medicines might arrive.
They also said the number of pharmacies in the area have fallen over the years.
Two town centre pharmacies, Whitworth and Well, are located opposite each other, close to a doctors' surgery. Standing in one queue outside Whitworth was Marilyn King.
She said: "I have been waiting seven days to get my prescription for blood pressure and some other medicines. This week, I've come back time after time. But the staff say sorry, they have not got it in because nobody has delivered it.
"I came here on Saturday, when there was a queue. But the pharmacist was not here. I came again on Tuesday and then Wednesday. Then finally, just when I reached the front of the queue, they asked me to come back in an hour…
"There seems to be a shortage of staff and medicine and delivery issues… They've not had things like insulin. There's just a queue of people."
Another patient waiting was Anna Hall. She said: "I've come to get my prescription and one for my mother-in-law. We are supposed to be going away but this is happening. This has being going on for a couple of months, I think.
"The town is getting bigger and more people live here. But there are less chemists and amenities than there used to be. There was trouble at the Well pharmacy so they all came here. But it's the same problem here."
Carole Anderson said: "Whitworth has been my pick-up chemist for years. I've lived in Barnoldswick for 40 years. It has never been like this. It's an emergency.  I'm trying to get some medicine for my son, some antibiotics and other things.  He's at home, in bed."
Roofing worker Kevin Black had two separate needs. One was linked to inhalers and the other linked to hurting his eye at work.
He said: "I came to the chemist for pre-ordered prescription for inhalers. They have two or three products displayed on the shelves. But when I got to the counter, the staff said they couldn't give me them because the pharmacist was not there. I wasn't happy with this. In the past, I got inhalers straight away, no problem.
"I asked what the purpose of a pharmacist was? But they said I was being rude and told me leave. It's ridiculous. When you've got a grievance, you're not allowed to say anything. We all face pressures and deadlines, chemists and building workers. If a customer complains to me, I listen. I don't tell them to leave.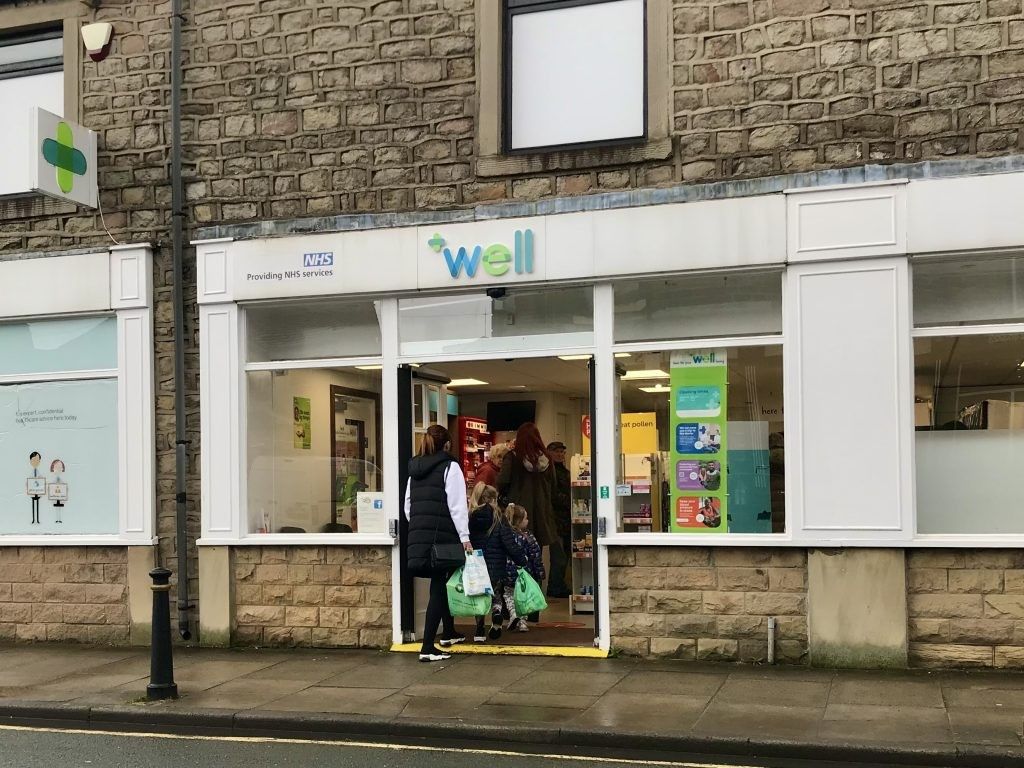 "I work on roofs and buildings. I got something in my eye while working this morning. I thought I'd go to an optician rather than bothering my doctor in Barnoldswick or going to the hospital A&E. That was at 10am this morning. But no optician could see me until 4pm.
"That's the whole day spent waiting for someone to look at my eye.
"It's all chaos. I would hate to be in a real emergency situation at the moment. To be in severe need. I don't have confidence at the moment that we can get what we need."
Pensioner Terry Asdin said: "I usually go to my doctor and then  get my prescription from the chemist, which they deliver. But the delivery man hardly delivers these days. The doctor said my latest prescription had gone in but I've been to the chemist today and there's a big queue.
"I told the doctor I want to swap to another chemist. I have always dealt with Whitworth. There is another chemist across the road, Well Chemist, but it was exactly the same situation there with queues and things. It's awful. There are elderly people involved in all this. It's a right mess. I don't know what is going on. I've never had problems in the past."
Jay Badenhorst, head of Whitworth Chemists, said community pharmacies are facing multiple challenges including NHS funding arrangements, rising costs, supply problems and the loss of staff to other health roles.
In addition, he said pharmacy workers in the Barnoldswick area have faced abuse and repeated complaints on social media, creating stress for them and hindering their ability to prioritise requests.
A spokesperson for the new NHS Lancashire & South Cumbria Integrated Care Board, which now organises healthcare services in the region following government changes, said no reports had been received about stock levels in Pendle being different to anywhere else in the region. But some temporary shortages at pharmacies are not uncommon.
The spokesperson added "When things are nationally unavailable, the NHS may issue serious shortage protocols (SSPs) which allows community pharmacies to supply an alternative product on the prescription – however nothing is in place currently around insulin products.
"Patients who find their regular pharmacy is out of stock can try other pharmacies because they may use a different wholesaler and have stocks available. It is advisable to phone ahead to check there is stock available before visiting a pharmacy."
However, pharmacies in the town of Nelson are facing shortages with other medicines. A pharmacists in Nelson Pharmacy told Pharmacy Business that he was struggling to meet local demand for children's paracetamol due to ongoing shortages and was having to face the wrath of angry patients.
(With Robbie MacDonald, LDRS)