Three UK pharmacists are featured in the digital book of celebrations to mark the International Federation of Pharmacists' (FIP) World Pharmacists Day 2022.
Simon Nelson, Nelsons Pharmacy Group, Wales; Raj Rohilla, Midhurst Pharmacy (West Sussex)/Goys Pharmacy (Battersea)/ Hamlins Pharmacy (Shepherds Bush) and Olutayo Arikawe, Swinford Pharmacy, West Midlands were among 27 pharmacists from across the globe and the AmerisourceBergen family, who contributed to a digital book of celebration, which aims to highlight the changing role of pharmacists and how they can create healthier futures.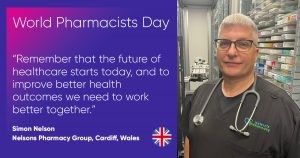 Pharmacists are no longer just 'chemists' – some pharmacists are now able to diagnose, treat and prescribe for patients who traditionally may have needed to see a doctor or GP. Others are guardians of their local community – keeping an eye on vulnerable patients who may not have regular contact with other healthcare professionals.
During the Covid-19 pandemic they stepped up to support stretched healthcare systems, with many taking a leading role in the world-wide response. This has evolved further with more and more pharmacists offering vaccination services for Covid-19, as well as flu, chicken pox and 'holiday' vaccinations. This changing role of pharmacists is helping them unite to create healthier futures.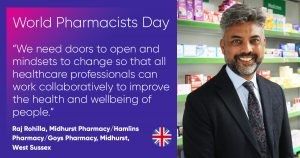 Simon said: "Remember that the future of healthcare starts today, and to improve better health outcomes we need to work better together."
Raj said: "We need doors to open and mindsets to change so that all healthcare professionals can work collaboratively to improve the health and wellbeing of people."
Olutayo said: "Together, we can achieve the best outcome with our patients and community."