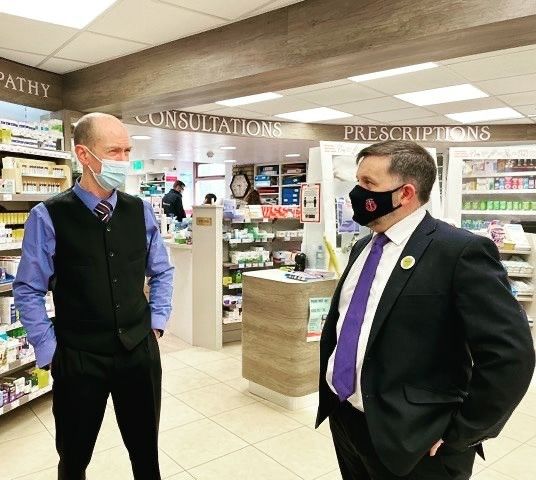 Northern Ireland's health minister Robin Swann called in at a pharmacy in Co Antrim to thank the team for the vital services they provided to the local community during the coronavirus crisis.
Minister Swann praised award-winning pharmacist Eoghan O'Brien and his team at Bannside Pharmacy in Portglenone for staying open throughout of the pandemic when many other health services remained closed.
Reacting to the minister's visit to his pharmacy earlier this month, O'Brien said: "Robin Swann has been a tremendous supporter of community pharmacy in Northern Ireland over this past challenging year.
"We are incredibly happy that he took time off his busy schedule to visit us, to show his support and encouragement for us, particularly in recognition of how each member of our team has gone above and beyond their call of duty."
The community pharmacy network across Northern Ireland has played a vital part in the Covid-19 vaccination programme which has seen well over 1.5 million vaccine doses administered so far. The vaccine programme now has fully opened for those aged 35 to 39 at participating community pharmacy.
On the easing of restrictions, Minister Swann said: "This week we will see further easing of restrictions with the re-opening of non-essential retail, gyms, leisure facilities and some tourist accommodation. These easements have only been possible because of the success of the vaccination programme, coupled with the actions of the general public.
"Therefore I would appeal to everyone who is eligible for vaccination to get an appointment booked. I know there are some younger people that think they don't need the vaccine but we have seen what this virus can do. So please protect yourself and get the vaccine.
"Vaccination is absolutely vital in helping us move through this pandemic. There is no doubt that there are people in Northern Ireland alive today because they have been vaccinated."
O'Brien won the Pharmacy Business 'Pharmacist of the Year' award in 2019.