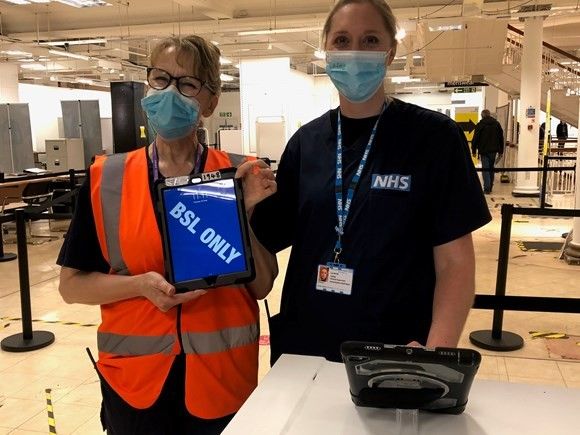 An on-demand sign language translation service has been launched to help people who are hard of hearing to have their Covid vaccination at large centres across Kent and Medway.
The service, which is offered by Kent Community Health NHS Foundation Trust (KCHFT) as part of a range of support, is expected to encourage people to get their jabs against Covid-19 infection.
The centres can now offer on-demand British Sign Language (BSL) interpreting by using a service called 'Interpreter'. Now each site has an iPad, which can be used to call a BSL video interpreter at the touch of a button.
Kim Novis, head of equality, diversity and inclusion at KCHFT, said: "Making sure our patients have the best experience when using our services or visiting our sites is really important to us. To improve accessibility for patients who are deaf or hard of hearing, we have partnered with Interpreter. Now to bring on-demand BSL signing to all of our vaccination centres."
Stating that its an easy to use app, Kim added: "You just open the app and press call when you need to use it. It's super easy to use and helps to make a huge difference to the experience of deaf and hard-of-hearing people when they come for their COVID-19 vaccine. It's just one of many ways we are working to make sure our vaccination centres are accessible to all."
One of the persons who used it while getting a vaccine, Emma Brown, 28, from Faversham in Kent, who had her second jab at the Folca vaccination centre in Folkestone shared that, "Obviously, at this time as a deaf person, it's really tough to understand people and make yourself understood, which can lead to more anxiety around all appointments, not just for vaccination.
"We sometimes feel like we have been left out and there's not enough awareness of what we need," adding that this offer is all set to make a massive difference to people who are deaf who just need a bit of extra support to understand the process of having the vaccine and provide some reassurance. "It's brilliant," she said.