Behavioural scientist, Dr David Crane, explains how community pharmacy teams can use a combination of behavioural support and pharmacotherapy in their smoking cessation services…
2020 may have shown a promising increase in quit rates, but further research suggests that's only half of the story. Data gathered by Smoke Free, the most popular smoking cessation app in the world, contradicted recent studies and found a third of smokers confess to smoking more since the pandemic hit.
Another 10 per cent of people have actively taken up smoking again or decided not to quit as a direct result of the pandemic. Smoking is still the number one cause of preventable illness and death in the UK and given the vast pressures on the NHS this winter and beyond, it has never been more important to help people quit.
My experience
Smoking is a notoriously difficult habit to break, as I know all too well. I smoked for 25 years. It was the motivation of not letting a friend's daughter down, when I promised her I would give up, which was my inspiration to quit for good.
However, motivation is just the start of the journey. Equally important is having a plan to stick to, a method to follow towards achieving that goal. As a behavioural psychologist, I know this is the right approach theoretically and I'd also tested the method personally as well.
In 2008 I decided to run the London Marathon. I'd never put on a pair of running shoes before, but I like a challenge! I stuck to a very strict training regime, a fool proof plan, and six months later, I crossed the finish line.
Sticking to the same principles of a strong motivation and a clear framework or plan to follow, a smoker will be able to give up for good.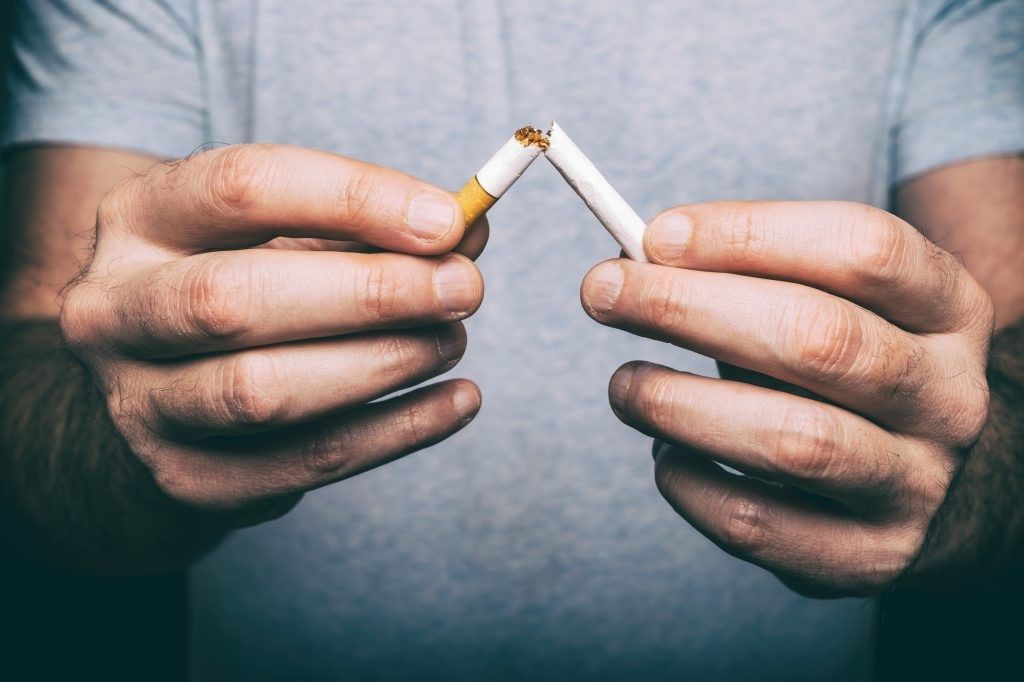 Pharmacist role
The Smoke Free App's research found that a fifth of people said they would go to their pharmacist for support to stop smoking as an easily accessible resource in the heart of the local community.
Despite NICE guidelines stating that behavioural support alongside pharmacotherapy is key to quitting success, budget cuts and increasing pressures on services means that much of the ability to provide behavioural support in pharmacy settings has been greatly reduced.
So, how can pharmacists continue to provide that service with the time and resource available?
I've shared my recommendations here:
Very Brief Advice: This technique can be done opportunistically if you know a patient is a smoker or is presenting with what might be a smokingrelated issue (such as a persistent cough). The relevant steps for pharmacists are:
Advise about the consequences of smoking and benefits of cessation
Advise on stop smoking medications
Provide options for additional supportIf someone is coming to the counter with nicotine replacement therapy (NRT) or to fulfil a prescription for Champix, providing options for additional support would give them a much greater chance of success.
Pharmacotherapy and e-cigarettes: There are a range of stop smoking pharmacotherapies that act primarily on reducing cravings to smoke. Champix appears to be slightly more effective than NRT but is only available on prescription. The optimum form of NRT is a patch for a background dose of nicotine, as well as a fast-acting product such as nicotine lozenge or gum. A 2020 Cochrane review has concluded that electronic cigarettes "probably work better  than NRT". E-cigarettes deliver nicotine in a way that replicates many of the psychological aspects of smoking, which is why many smokers find them such an acceptable replacement. Whilst more studies are needed about long-term use, there is no doubt that encouraging smokers to switch to e-cigs has substantial harm reduction benefits.
Behaviour change – forming new habits: Smoking is a notoriously hard habit to break, it's habitual and highly addictive. It takes most smokers more than 20 attempts before they are successful and only a tiny number of quits last for long unless people get help.Smokers who get support from expert advisors are four times more likely to succeed than people who go it alone, so getting support is key to ensuring new habits are formed. A quitter must also feel like they are making progress, therefore, regular updates on what gains are being made can help people stay motivated and keep going.These gains may include; the amount of money saved by not smoking, or simply how many smoke free days the quitter has maintained. The quitter should be congratulated for all achievements as this is a crucial step towards staying motivated which can be particularly useful during the difficult first few days and weeks of a quit.
Professional support and digital health: Pharmacists can signpost to local smoking cessation services, but there are also a raft of apps and websites, including the NHS's stop smoking website, which can provide more detailed support. Smartphone apps are increasingly used for quitting smoking. They are highly accessible, easy to use, cost-effective and confidential. The best ones will adopt behaviour change techniques to show what health improvements are being made and some will incorporate round-the-clock access to stop smoking professionals to mirror the support given in face to face support groups. A simple website to signpost patients to is orcha.co.uk, an impartial website which rates a range of health-related digital resources, including stop smoking apps and tools.
Dr David Crane is founder of the Smoke Free App.