In an exclusive interview with Pharmacy Business, chief executive Roger Scarlett-Smith says agility and entrepreneurship are the unique selling propositions of Thornton & Ross. He spoke to Priyankur Mandav…
Founded by chemists Nathan Thornton and Philip Ross in Huddersfield in 1922, Thornton & Ross manufactures and supplies a wide range of over-the-counter pharmacy brands, including household names such as Covonia, Hedrin, Cetraben, as well as the leading disinfectant Zoflora.
On the prescription side, it produces emollients and innovative medicines aimed at the treatment and prevention of common bone disorders, such as osteoporosis and Vitamin D deficiency, plus a wide range of generics and speciality products.
In recent years, the company has also built a sizeable international business – particularly after it was acquired in 2013 by STADA, a German pharmaceutical company with a 120-year-old heritage rooted in pharmacies.
During 2020, the group – backed by UK private equity funds Cinven and Bain Capital – became number four in the European generics market and increased its ranking from number nine to number five in the European consumer healthcare market.
Showing resilience amid the coronavirus pandemic, STADA – headquartered in the spa town of Bad Vilbel on the outskirts of Frankfurt – increased its revenue by 18 per cent last year to more than 3 billion euros.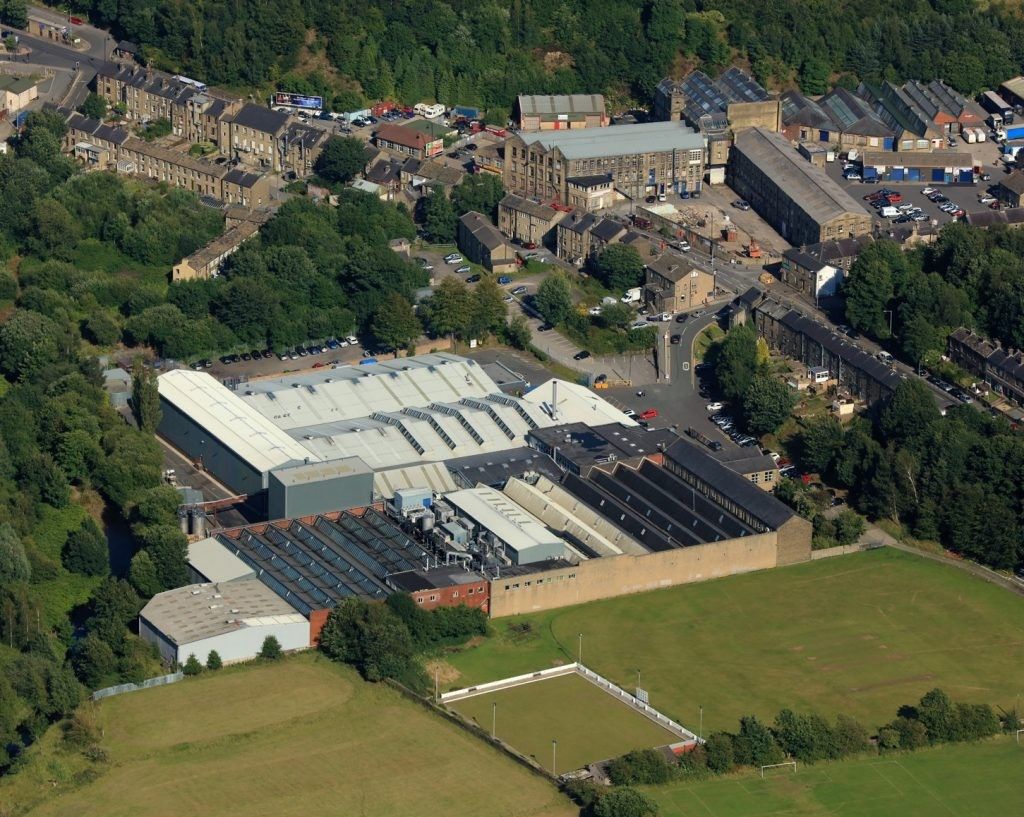 T&R chief executive Roger Scarlett- Smith – who also sits on STADA's executive committee as executive vice president, STADA UK and North America – puts the group's continued growth down to its "relentless focus" on driving a continuous improvements culture while striving for "operational excellence" to make everything it does more efficient. "We are nimble, flexible and adaptable, and that helps," he adds.
Having ridden many a wave at pharma giant GlaxoSmithKline for 35 years, Scarlett-Smith had just been advising private equity companies on various deals in the consumer healthcare space – his core area of expertise – when he got the opportunity to lead STADA's UK affiliate on a temporary basis.
"I didn't expect to stay for more than a couple of months," he says, recalling how, after his retirement from GSK, he wouldn't have had a 'second coming' had it not been for his wife, pressed him to see if he had enough in his tank for "another go".
"I'm very glad she gave me that prompting because I've absolutely loved working in STADA, particularly Thornton & Ross in the UK," he told me during a video call from his Huddersfield office.
"It's been really fun to be on a very diverse portfolio of healthcare brands and spend time with a great bunch of talented people who are very enthusiastic and always keen to do good work for their customers."
After completing his law degree from Cambridge University, rather than pursue a legal career, Scarlett-Smith decided to find work in the field of business so he could explore "more international opportunities".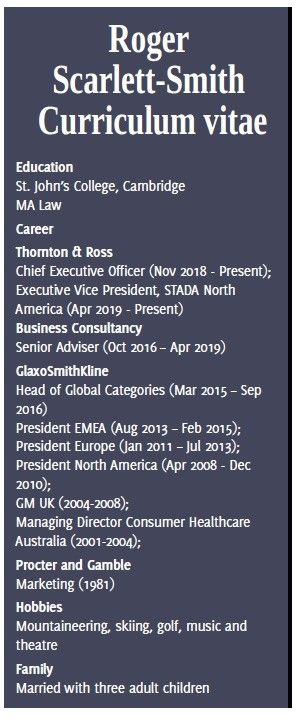 'Pharmacy is in my blood'
He joined Procter & Gamble as a graduate trainee in the early 1980s, which would then lead him on to his first job as a pharmacy sales representative before he would become a P&G brand manager.
"That was the time I came across a huge number of pharmacies. Pharmacy has always been in my blood," he says, fondly recalling how he was one of the first reps to have introduced Pampers to pharmacies in London and the south of England.
Now, as the CEO at T&R, he wants to develop a very strong and unique partnership with pharmacy, which also aligns with STADA's real mission of extending partnerships to deliver value to people's health.
He believes the pandemic has provided community pharmacy a great opportunity to build "real customer empathy" and to become a more recognised face of healthcare on the high street during this time.
"I have no doubt that many pharmacies have used this opportunity to build their credentials and win back the loyalty of their customers. In view of threat from online, pharmacies need to play to their strength – which is to have that friendly face and trusted demeanour and be part of the local community.
The best pharmacies have every reason to maintain loyalty from their customers because they will know the kind of families they are dealing with, their health history and be able to proactively spot issues these people could be suffering from and carry out the first point of diagnosis before signposting them to doctors and specialists. These things get remembered and valued by their customers.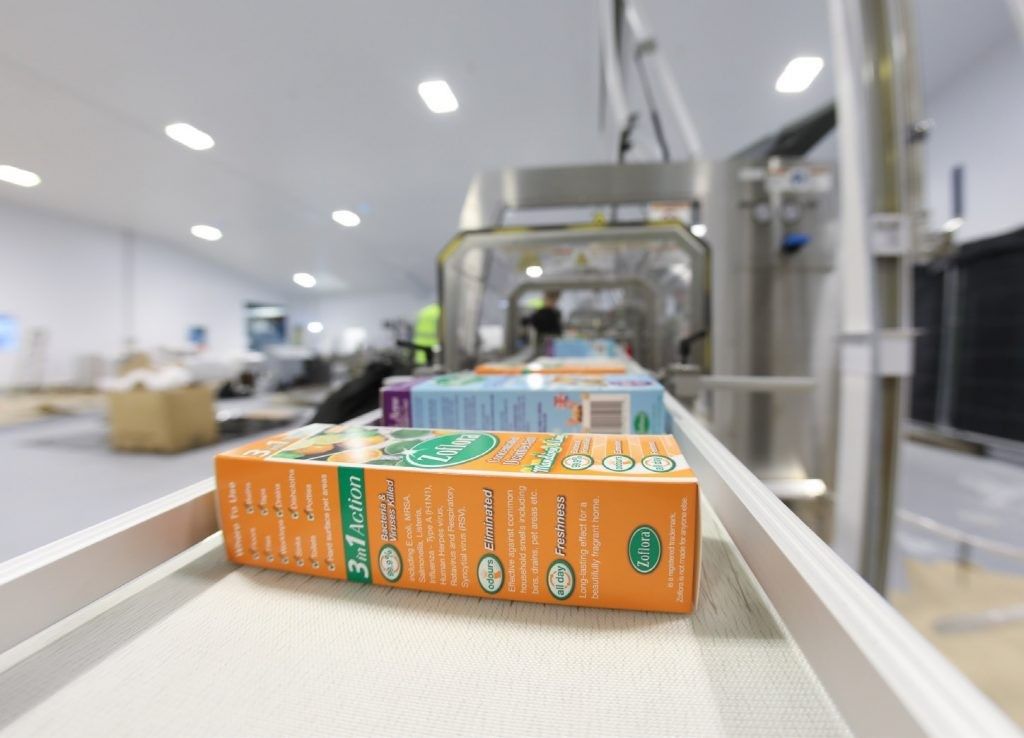 "Pharmacies need to continue to show an attractive shopping environment. They need to continue to adapt their range and understand how shopper behaviour is changing and, where possible, become part of the e-commerce kind of trend.
A strong team of pharmaceutical sales representatives at T&R extends all the support that pharmacists need by contacting them however suits them – online, over the phone or in person, whenever possible.
"What we do is we offer information about products and training support, which can be accessed online as well as through various promotional materials. But our training is not just on the products we have, but also on business opportunities and business development for pharmacies.
"We try to be a constant friend for pharmacy and pharmacists, and help them develop a more thriving business because that would be in our interest too.
"Incidentally, not many people know that the biggest brand in pharmacy is actually the one that we own – from our Care range.
"We have a publication, both paper-based and online, nowadays, increasingly online, called The Ultimate Guide to Care. It is a whole wealth of resources with information about the full Care range and access to training materials for pharmacy teams."
Care's remedies for minor health concerns covers seven categories, including cough and cold, pain relief, stomach and bowel, skincare, junior relief, female health and other products. In addition to providing product training and support, a specially-trained team assists with advice on providing a suitable remedy or more information on conditions commonly encountered in community pharmacy.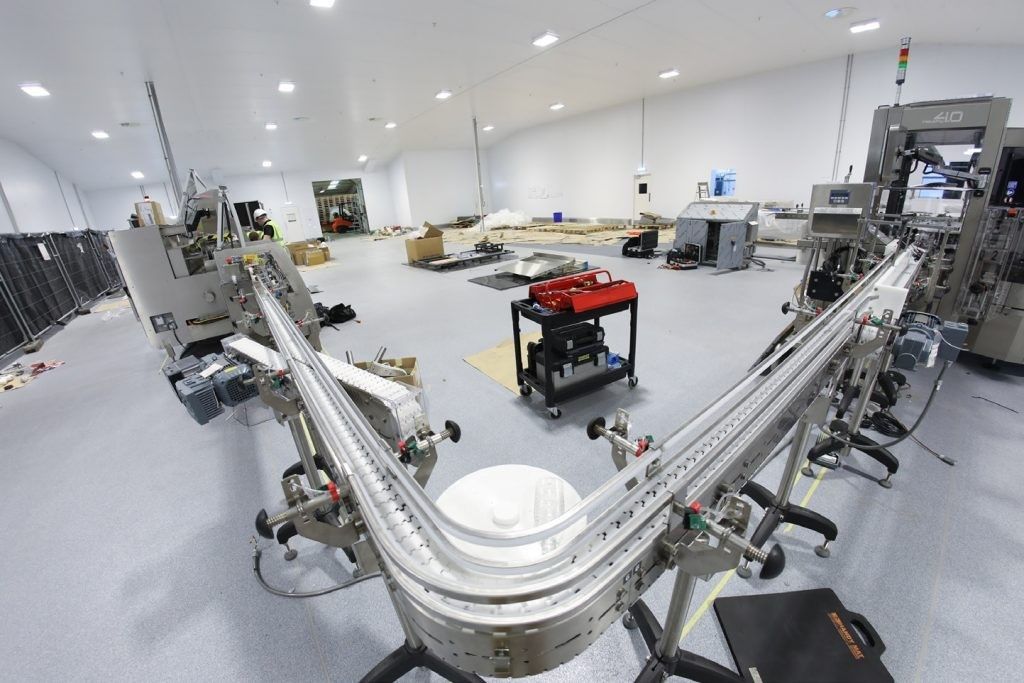 High value derma
"We also have very strong, high value dermatology products, which are a mixture of Rx and OTC. They come with a very high level of endorsement from healthcare professionals. Pharmacists can be very confident in recommending them to their customers."
T&R does a lot of sampling to allow consumers the chance a chance to experience the product quality firsthand. Last year, it donated more than 100,000 free samples to frontline healthcare professionals throughout the UK from two of its leading skincare ranges – Zeroderma and Cetraben.
"We did it as a donation, not as a promotion," Scarlett-Smith says, adding that it has really helped promote stronger awareness around good skincare and had the impact of creating a more trusted brand.
He hoped the nurses and doctors who used T&R products themselves would be able to recommend them to their patients.
"We reckon we are one of the largest suppliers in dermatology. We have a good size of manufacturing business, which means that we can keep our costs reasonably low and pass that on to our consumers. We think that we have excellent quality at a reasonable price and certainly our business in dermatology is responding quite well."
Zoflora in pharmacy
Scarlett-Smith is also keen to promote Zoflora – the UK's number one disinfectant brand – in community pharmacy.
"There is always an opportunity for independent pharmacist to look at where the consumer is moving and to extend their range accordingly," he says, explaining how pharmacy chains Superdrug and Boots have "just taken on" the disinfectant brand.
"The coronavirus pandemic has changed consumer behaviour in a lot of ways, and if you look at the sorts of habits that are being adopted, people are disinfecting their homes more often, they are looking for more healthcare products of all sorts.
The brand, developed in 1922 to eliminate odours and kill germs in public places, enjoys celebrity endorsement and a loyal customer following with over two million households buying it.
It has an interesting back story: Nathan Thornton had a large brass pressure sprayer, which he took to public places and sprayed Zoflora all around to demonstrate its beneficial effects. People were so impressed with these wonderful aromas that they wanted to buy Zoflora to use in their own homes.
While Zoflora's primary use is as a disinfectant, its famed for the divine scent it can fill a space with, too. The brand's website states it can be diluted and used as an air freshener spray, poured undiluted down sinks and even used on rugs, patios and artificial grass to eliminate odours.
"Zoflora is a brand that's actually got reasonably good penetration, particularly in pharmacies now, and it's something to consider because Zoflora is a disinfectant product. You might think that's nothing to do with health, but actually disinfection and home hygiene is very much a kind of one of the first barriers to infection and is a truly healthcare product. We do see a big role for that category in pharmacy."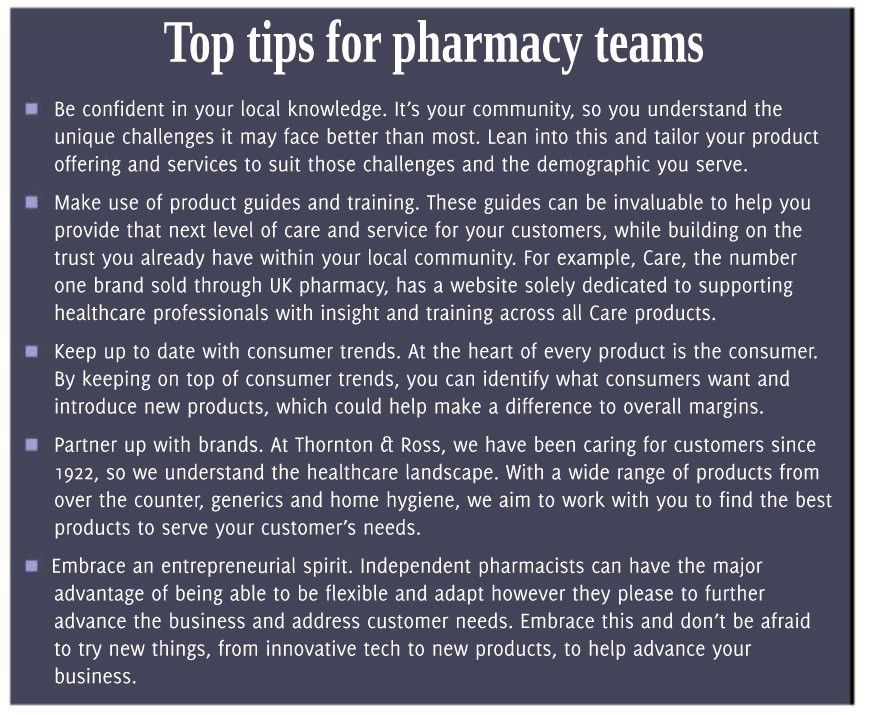 Important niches
T&R wants to maintain a good reach into many different trade sectors because it serves a very broad sweep of products which occupy what Scarlett-Smith calls "important niches".
In 2019, it took over five brands of dermatological products from GSK-Ceridal, Eurax, Oilatum, Polytar and Savlon, as well as Tixylix, a pediatric cold medicine, covering Europe and some selected markets in the Asia-Pacific and Latin America regions.
Last year, just before the outbreak of the pandemic, STADA completed the acquisition of 15 well-established consumer healthcare brands across more than 40 countries and multiple therapeutic areas from GSK.
Scarlett-Smith says it was quite opportune that he joined a company that was interested in buying some of the brands from his former company.
"I've been around the block a few times, so I've got a pretty good understanding of most of the brand landscape out there. There are a whole number of brands which are perhaps capable of strong growth and further development, but perhaps with the wrong owners at the moment, owners who have other priorities, or who have perhaps only more interest in developing an international business than investing in local champions."
He gave the example of Nizoral which STADA recently acquired from Johnson & Johnson, for whom it was a small brand and of not great interest. "It was given no real attention, and they were happy to pass it on to us. Since we've taken it on, we've really invigorated it, and the brand is growing very strongly, with a little bit more local care and attention.
"Similarly, we're doing quite well with Savlon, which we bought across from GSK. It wasn't a global brand for them and it wasn't really an area they were going to invest in from any point of view with manufacturing, R&D, or advertising.
"On the contrary, for us, it's a great fit, we can make it in the factory here (in Huddersfield). We have a strong pharmacy business and Savlon is a great brand in pharmacy – very integrative for what we do and the right kind of scale for us to do something with."
Olitum is another example also from the GSK stable, where he said the company is in the process of revitalising the business of a "great heritage brand".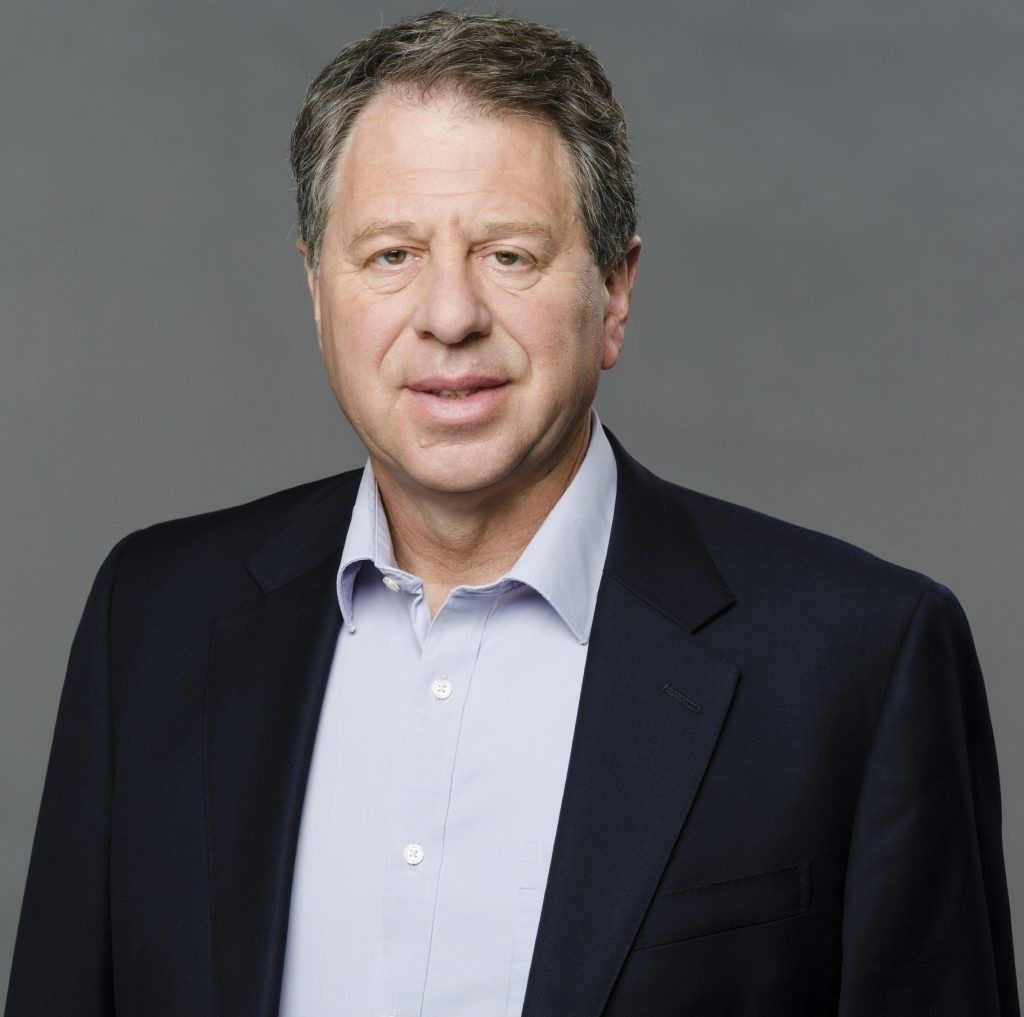 Different strings
"With lots of creativity and opportunity for growth, we've had a very good run," Scarlett-Smith admits. "We've been growing well into double digit and we've had some very strong brands that have moved forward substantially. As a result, we now have different strings to our bow.
"We are present in every household, but with niche brands, mainly brands that have a little bit of differentiation and those that may need some local care and attention – the kind some of these big multinationals would not be prepared to put into. We love the brands that we can do stuff with on a local level."
The opposite rings true for the Natures Aid range, "a company in its own right" that T&R acquired about six years ago and chose to retain the company name. It is now seeking to ramp up its UK pharmacy footprint by applying its international expertise to the UK pharmacies, particularly products that have proved successful in the global pharmacy market.
Manufactured in a purpose built 43,000 ft state-of-the-art facility in Preston, Lancashire, Natures Aid's product portfolio consists of seven main specialist health categories: children's health, microbiotics, omegas, glucosamine, multi-vitamins, organics, and licensed traditional herbal remedies or THR's.
With approximately 75 new products launched over the past three years, Natures Aid has grown to offer a comprehensive portfolio of more than 200 natural health supplements. Just last year, the business launched 'Wild Earth', the first completely vegan and planet friendly range of vitamin and supplements.
Scarlett-Smith says: "It is our fastest growing part of the business, alongside Zoflora. I'm genuinely excited about the opportunities for Natures Aid, which has been growing like crazy, particularly in these last couple of years – 35 to 50 per cent per annum. I think it's just part of this huge movement towards consumers wanting to take care of themselves, their health and being proactive about preventative measures."
"I do think we are still quite ambitious in our acquisition policy, looking at opportunities to grow through acquisition, as well as through our own development."
He talked of how STADA formulated a ready-made injectable format of an anti-cancer medication used to treat multiple myeloma when the standard product needed to be compounded and made up from powder.
"We're not looking for necessarily just straightforward, generic versions of the originator brands. We are looking for ways in which we can bring improved technology and points of difference to bear. That will be a theme of how we develop our pipeline going forward."