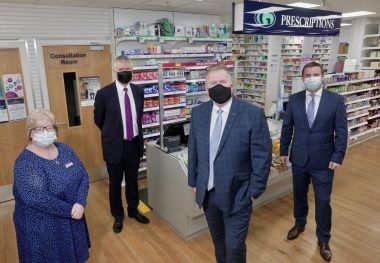 The new Ulster Unionist Party leader and Upper Bann MLA Doug Beattie has paid tribute to his local community pharmacy team for its response to the pandemic and work in rolling out the Covid-19 vaccination programme at a local level.
Beattie was visiting Gordons Chemists, Portadown to hear about how the community pharmacy network has been delivering Covid-19 vaccinations in the local community following the extension of the vaccine programme in recent months.
Over 54,000 vaccinations have been administered in the first eight weeks since community pharmacy was brought onto the programme at the end of March.
Speaking after the visit, Beattie said: "It was a pleasure to visit Gordons Chemists today and hear firsthand from staff how they have been working tirelessly throughout the pandemic for the local community.
"Without question, community pharmacy teams have ramped up services to look after patients at a challenging time. The pandemic has shone a light on the connection between communities and their local pharmacists, highlighting the benefits of having local, accessible care in the heart of the community.
"It was particularly encouraging to hear about the successes of the Covid-19 vaccination programme and the positive impacts it has had on the local community. Having the Covid-19 vaccine available in local, convenient settings such as this has been a game changer. In more rural settings and smaller towns and villages, the provision of the vaccine makes a huge difference, meaning that people do not have to travel far and thus increasing vaccine uptake."
John Clark, general manager of Gordons Chemists said: "We welcomed the opportunity to speak with Doug Beattie on the work we have been doing to date with regards to the pandemic response.
"Whilst Covid has presented us with a series of challenges, I am proud of how our staff have risen to meet each of them, showing a real dedication and commitment to supporting the local community throughout the course of the pandemic.
"Looking ahead, community pharmacy has an important role to play in the transformation of the health service, appropriately resourced we can support the health and well-being of our local communities and help to displace bottlenecking at GP surgeries and secondary care."
Community pharmacy teams have been providing much sought-after advice and support to local patients during the pandemic and have offered expanded services such as the emergency supply service that has ensured medicines get to patients, as well as the winter flu vaccination programme which vaccinated 17,000 health and social care workers last winter.