Alliance Healthcare UK, a leading wholesaler of medicines and healthcare products has announced the launch of the Alliance Healthcare UK Advisory Board on Wednesday (3 May).
The Advisory Board consists of senior experts from the healthcare sector and provides an invaluable source of advice, ensuring Alliance Healthcare UK's strategic programme is aligned to NHS priorities and delivers real value to UK patients.
The Advisory Board is chaired by Alliance Healthcare UK's Non-Executive Adviser, Chris Martin. He is a Pharmacist and Non-Executive Advisor at Alliance Healthcare having run two successful independent community pharmacy chains in the West Country and West Wales.
He has recently been appointed as Chair of Pharmacy, delivering a Healthier Wales Delivery Board and a member of the Health and Care Research Wales Advisory Board. He was awarded a fellowship by the Royal Pharmaceutical Society of Great Britain in 2006 for outstanding contribution to the practice of community pharmacy. In 2018, Chris was awarded an Honorary Doctorate from Swansea University to celebrate his entrepreneurial success along with his distinguished career in the public, private and charitable sector and in 2023 appointed Deputy Lord Lieutenant of Dyfed.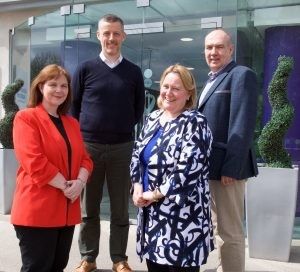 It has four members: Lord James O'Shaughnessy, former Department of Health Minister and Director of the No.10 policy unit; Jeannette Howe, former head of Pharmacy at the Department for Health and Social Care; Claire Ward, Director of Public Affairs for the Pharmacists Defence Association and former MP for Watford (1997 – 2010) who served as PPS for the Department for Health (2001-2005) and Justice Minister; Fin McCaul, Managing Director of Prestwich Pharmacy and Fellow of the Royal Pharmaceutical Society.
James is one of the UK's leading policy advisors, having worked as a Minister at the Department for Health & Social Care, as Director of the No.10 Policy Unit, and as an advisor to DHSC Ministers during the COVID-19 crisis. As Minister his responsibilities included implementing the Life Science Industrial Strategy, delivering a new pricing scheme with the pharmaceutical industry, chairing the National Genomics Board, and driving the digital transformation of the NHS. James was also responsible for preparing the health and social care sectors for Brexit and helping to design the post-Brexit regulatory regime.
Claire is a qualified solicitor (non-practising) who served as the MP for Watford between 1997 and 2010. During her time in Parliament Claire held several positions including vice chamberlain to Her Majesty's Household, Justice Minister, and PPS at the Department of Health (2001 – 2005).
Since leaving Parliament, Claire has held a number of executive and non-executive roles in the community pharmacy sector.
She was CEO of the Independent Pharmacy Federation and Chair of Pharmacy Voice. Claire provides advice and consultancy to a number of pharmacy organisations and companies, including as Director of Public Affairs for the Pharmacists Defence Association. Claire was appointed to the Board of Governors of the University of Hertfordshire in 2018. From 2019 to 2022 she was Chief Executive of the Institute for Collaborative Working. She has been a Non-Executive Director of Sherwood Forest Hospitals NHS Foundation Trust since 2013 and was appointed Chair in April 2021.
Jeannette is an experienced pharmacist, senior civil servant and executive, with an in depth understanding of government machinery and health and social care systems, especially how they impact on medicines and pharmacy practice.
She started her career as a pharmacist in NHS hospitals before joining the Department of Health in 1987 as a professional adviser. Having progressed in her professional career to acting Chief Pharmacist for England at the Department of Health, in 2003 she moved to a generalist policy role as Head of Pharmacy. During her 30 plus years at the Department, she was an influential figure, including transforming hospital pharmacy, establishing the Centre for Pharmacy Postgraduate Education and shaping community pharmacy. This led to her receiving an OBE in 2020. Jeannette is also a fellow of the Royal Pharmaceutical Society.
Fin is the Managing Director of Prestwich Pharmacy. He has worked with various public health groups, including the Long-Term Conditions Lead for NHS Bury Locality in Greater Manchester ICS, GPs, and primary and secondary care providers.
Fin was made a Fellow of the Royal Pharmaceutical Society in 2016 in recognition of his service to pharmacy, and has been a PSNC Regional Representative for the North West since 2017.
The Advisory Board has met twice this year at Alliance Healthcare UK's headquarters in Chessington and will meet quarterly in 2023.
Marie Evans, Managing Director of Alliance Healthcare UK, said: "The Advisory Board is an invaluable resource, bringing great knowledge and experience to challenge Alliance Healthcare UK's strategy as we continue to support community pharmacy and ensure that our service development priorities align to those of the NHS and improve the lives of patients."
Alliance Healthcare UK serves over 17,000 healthcare providers including community pharmacies, GPs, hospitals, and health centres.