The great and the good in pharmacy came together for the first time after Covid-19 for a special night to celebrate the achievements of the real heroes of the pandemic…
Health secretary Sajid Javid has called for community pharmacy to be represented on the broads of the integrated care systems once they are established on a statutory footing from July this year.
Speaking at the 21st Pharmacy Business Awards on Wednesday (March 23), Javid said he would also like "pharmacies to reach new heights in a post-pandemic world" – arguing that the Covid-19 crisis "can't be the high-water mark for community pharmacy".
"I recently set out my priorities for the decade ahead for the NHS and the very first thing I talked about was prevention, the importance of doing a lot more on prevention. It's self-evident that as pharmacists you can play a reinvigorated role in the prevention agenda.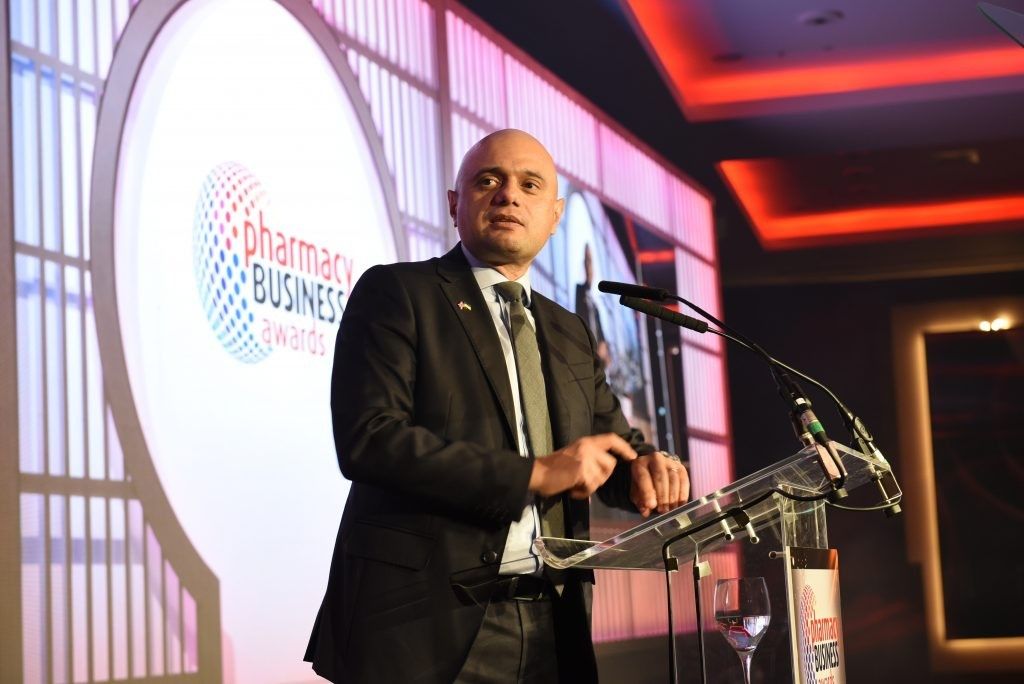 "A lot of the basis of the upcoming changes that we've got in the Health and Care Bill, which is before the parliament right now, is just about that. It will create this new statutory integrated care systems which will lead on health in their respective areas. I want to see pharmacy represented on each of each of those boards."
The 21st edition of the Pharmacy Business Awards, held at the Park Plaza Westminster Bridge Hotel in central London, shone the light on yet another group of community pharmacy heroes.
The standard of work acknowledged by these awards have become the benchmark that community pharmacists have come to aspire to and our annual gala dinner held face-to-face after two years due to Covid-19 pandemic saw an entire industry come together to revel in the achievements of their fellow professionals.
Gone but not forgotten
But the evening began on a rather sombre note. First, a tribute video was played, highlighting the life and achievement of the late Ramniklal Solanki – the founder and editor-in-chief of Asian Media Group which owns Pharmacy Business magazine – who passed away in March 2020. This was followed by another tribute paid to all frontline workers in Britain who sadly succumbed to Covid-19.
Javid paid a glowing tribute to late Solanki, calling him a giant of British media.
"It's also one of the first awards without the great Ramniklal Solanki, who was a giant of British media for nearly six decades and so instrumental in making this event an annual highlight," the health secretary said, adding: "He's dearly missed but his legacy lives on in tonight's celebration of pharmacy."
Expanding on the idea of 'Pharmacy First' service in England, Javid said he has instructed officials at the Department of Health and Social Care to explore the possibilities of how community pharmacies "can make an even better walk-in offer, not just on minor illnesses but on much more."
A fifth of GP appointments are taken up by minor illnesses, which could be better dealt with by community pharmacies.
Javid stressed: "I'm not just talking about helping to take the pressure off the NHS – a role that is hugely important – I'm also talking about growing on your incredible skills, your knowledge and your capacity to innovate.
'You have my full support'
"I really want to work with you to see how you can embrace much more new ideas and do things even better. You have my full support," Javid told pharmacists.
Although there was broad consensus that community pharmacy could achieve so much more if the sector was suitably empowered and remunerated, sceptics did question how it could "reach new heights" in the current climate of flat funding and swinging cuts lasting over eight years.
Earlier, delivering his opening remarks, Shailesh Solanki, the executive editor of Pharmacy Business, pulled no punches when it came to the funding crisis in community pharmacy. He said the sector cannot be expected to continually absorb rising costs amid record inflation without affecting patient care.
"For years community pharmacy has suffered from under investment. The stark reality is that pharmacy finances are in a perilous state.
"Hundreds of pharmacies have closed over the last few years and with nearly a decade of flat funding community pharmacies are now facing rising costs of staff, energy and business rates.
"These ever-increasing cost pressures require a meaningful response from government.
But he agreed that with the right investment, community pharmacies – which are about more than just medicines – can do so much more.
"From treating minor ailments to clinic checks for patients with hypertension to detecting early stages of cancers and dementia, community pharmacy can play a vital role in the wider NHS and in the prevention agenda.
Although pharmacy's involvement in the Covid-19 vaccination programme was a welcome relief to many contractors, it was only 10 per cent of the total community pharmacy workforce that was invited to participate in the national rollout.
Javid said he chose to visit a community pharmacy when he needed his first Covid-19 booster vaccine. He commended pharmacists for their "hugely important and a starring role in that medical emergency" by vaccinating "millions of people across the country".
"Just a couple of days ago I was told by my team at the UK Health Security Agency that they believe that because of the booster campaign that took place in December and early January, some 160,000 people were kept out of hospital and all of you here, all the pharmacists here, you played such an incredible role in helping to achieve that," Javid said.
Speaking about "the devastating loss of life and sacrifice that the Covid-19 pandemic wrought on our lives", Solanki said: "It feels as though the pandemic has wiped out a generation".
"We have all suffered loss and many of us in this room have made huge sacrifices. Many on the frontline paid the ultimate sacrifice. The young and old; healthy and infirm; rich or poor; Black, white, or Asian. The pandemic did not discriminate in its destruction."
Ukraine
The heath secretary touched upon another saga of death and destruction and praised the brave Ukranian pharmacists who continued to bring pride to the profession by battling it out during a bloody war.
Javid said: "Throughout the world and throughout history, pharmacists have always performed such a vital service. I want to commend all the pharmacies in the UK who are supporting their counterparts in Ukraine in all kinds of ways."
The awards, which hailed the best of community pharmacy and attracted politicians, pharmaceutical company executives and healthcare leaders, were awash with accolades for community pharmacy.
The evening saw a total of 14 awards being handed out, including the inaugural Pharmacy Business Ram Solanki Lifetime Achievement Award, which went to academic pharmacist Professor Mahendra G Patel OBE.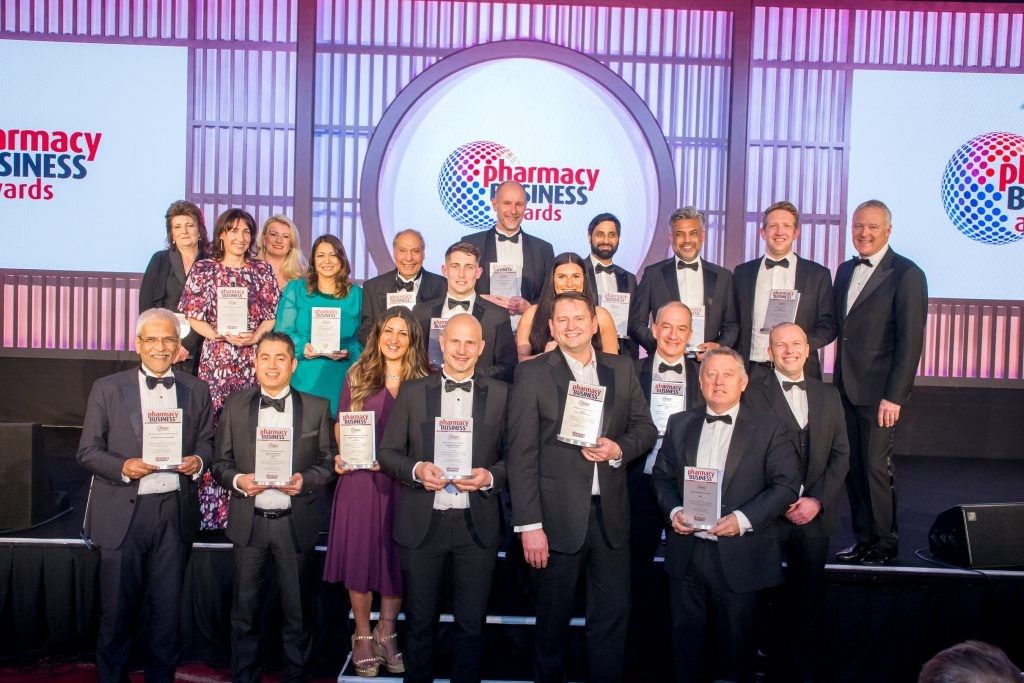 An 80-year-old community pharmacist, Nizar Mawani of Haydons Pharmacy in south London, won the Community award, while David Parker of Church Crookham Pharmacy in Hampshire beat off some tough competition to win the Local Health Initiative of the Year award. The Pharmacy Business of the Year award went to Newdays Pharmacy in Buckinghamshire run by Olivier Picard.
Other winners were as follows:
Pharmacy Business Technology Award – Mark Hopkins of Hopwoods Pharmacy, Llanedeyrn, Cardiff.
Pharmacy Business Public Health Pharmacist of the Year – Raj Rohilla of Midhurst Pharmacy in West Sussex.
Pharmacy Business Pharmacy Team of the Year – Craig Hinks and team at New Inn Pharmacy in Pontypool.
Pharmacy Business Natural Healthcare Pharmacy of the Year – Elegant Health at AR Pharmacy, Totton, Southampton.
Pharmacy Business Innovation Award –Khizer Qureshi of Allen & Barnfield Chemists Ltd.
Pharmacy Business Pharmacy Assistant of the Year –Karen Sirrell of Day Lewis Pharmacy, Henbury, Bristol.
Pharmacy Business Independent Prescriber of the Year – Joanne Hope of Barnton Pharmacy and Travel Clinic in Edinburgh.
Pharmacy Business GP/Primary Care Integration Award – Mohammed Ramzan of Buxton & Grant Pharmacy in Clifton, Bristol.
Pharmacy Business Community Pharmacy Heroes Award – Sobha Sharma from Woolwich Late Night Pharmacy.
Pharmacy Business Enterprise Award – Martin Stratton of Appleton Village Pharmacy in Cheshire, Widnes.