In his maiden speech delivered to community pharmacy since becoming new minister with responsibility for the sector, Will Quince MP said he's determined to be "your champion" and "voice in government".
Addressing delegates on Wednesday (Oct 12) as chief guest at the 22nd Pharmacy Business Awards in central London, he praised community pharmacy for delivering 25 million Covid-19 vaccines, five million flu jabs, 200 million lateral flow testing kits and millions of medicines throughout the pandemic.
"These local efforts became the national success story," he told over 600 attendees at a gala dinner held at the iconic Park Plaza Westminster Bridge hotel overlooking the Houses of Parliament.
'We need you now'
Quince, who was appointed minister of state at the Department of Health and Social Care on 7 September 2022, added: "Just as we needed you in the pandemic, we need you now," highlighting the vital role of community pharmacy in realising the secretary of state (Thérèse Coffey)'s vision, particularly in regard to her much talked about 'Plan for Patients'.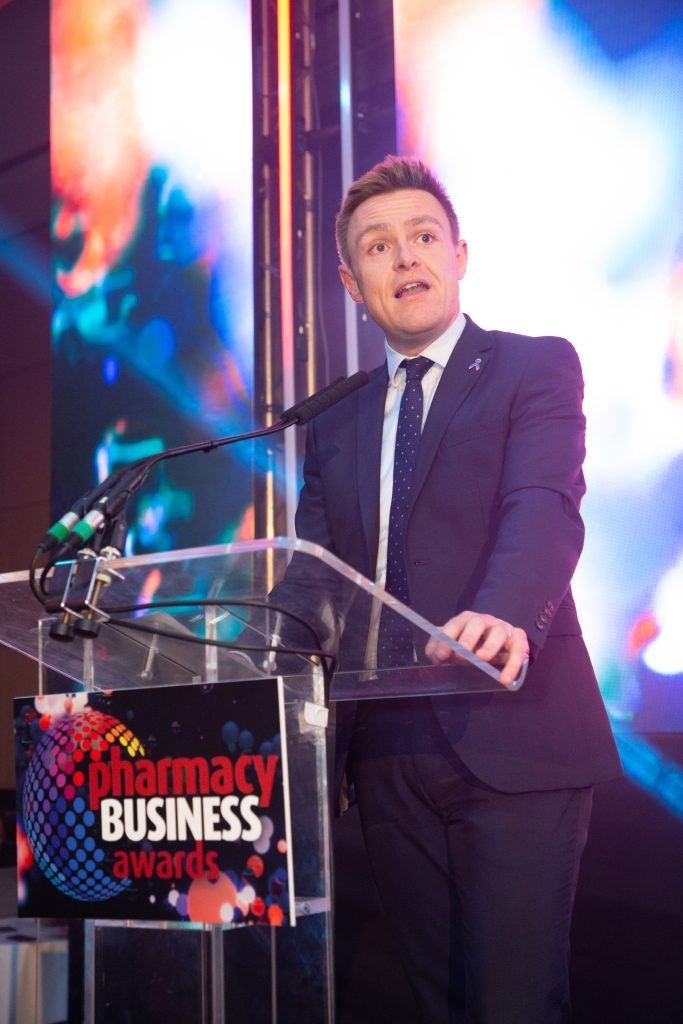 "Patients are our top priority. And in my opinion, no one understands that better than you," he told community pharmacy teams who had gathered at the event billed as "the most spectacular in pharmacy" since Covid-19, and attended by community pharmacy teams, the chief pharmaceutical officer for England, leaders and representatives of professional and regulatory bodies, industry CEOs and top executives as well as ministers and other politicians who have a deep interest in pharmacy, among others.
Refreshing and positive
The minister's speech was well received by the sector with one pharmacist calling it "crisp, with no fluff and rhetoric we are so used to hearing from our ministers all the time."
Janet Morrison, chief executive of the Pharmaceutical Services Negotiating Committee, said it was "refreshing to hear the minister speak with such enthusiasm about the sector, recognising its contribution during the pandemic but also importantly the potential for community pharmacy to do so much more."  
She said since his appointment, the pharmacy negotiator has had "very productive discussions" with him about the sector's future and potential.
"Clearly with the right sustainable funding and capacity, there is huge potential for us to deliver a pharmacy first service as a foundation stone for wider services in medicine optimisation, supporting people with long term conditions, prevention and health inequalities.
"The minister is clearly open to the potential of the sector and understands the pressures we are currently facing."
Dr Leyla Hannbeck, chief executive of the Association of Independent Multiple Pharmacies, welcomed "the positive and constructive overtures" of the minister during his speech and hoped that "he is able to push through the vision and aspiration that was encouraging to hear."
She added: "We look forward to offering our support and assistance in developing our relationship with his new portfolio."
Chair of the National Pharmacy Association, Andrew Lane, found the new pharmacy minister "genuinely enthusiastic" about speaking up for community pharmacy in the corridors of power.
"He rightly touched on the funding situation in his remarks at the awards ceremony. He said some of these same things in private to me when we met recently at Gompels Pharmacy, but it's important that ministers are straight-talking in public too.
"He recognised the vital importance of pharmacies during the pandemic and into the future. However, he and his colleagues need to follow through swiftly with tangible support in order to prevent a calamitous reduction in pharmacy numbers."
Stating that it was "fantastic to hear of the support we have from the new pharmacy minister," chief executive of the Company Chemists' Association, Malcolm Harrison, said: "I hope we can all work together with the minister to turn his ambitions into reality."
Praising the awards, Thorrun Govind, English Pharmacy Board chair, said: "The Pharmacy Business Awards were as ever a heartening reminder of the incredible work of community pharmacists who inspire not just their teams but the whole profession."
On what the minister's speech, she added: "It was really positive to hear the minister recognise how community pharmacy will play a key role in the government's plan for patients.
"Pharmacy teams will be vital to supporting patient care, so I hope he will be their champion to ensure they get the support and resources they need."
The minister began his speech by paying his tribute to Parvativen Solanki, the co-founder of Pharmacy Business magazine owned by the Asian Media Group (AMG), who passed away on the same as day as Her Majesty the Queen.
Earlier, Shailesh Solanki, executive editor of Pharmacy Business, spoke of the vital contribution his mother had made in establishing the AMG.
"She was one half of an enduring partnership with my father (the late Ramniklal Solanki) which saw the launch of one of Britain's biggest Asian titles and the media group my brother Kalpesh and I now run."
Paying tribute to the Queen, he said in the years of Her Majesty's reign "Britain has become a kinder, gentler and freer society."
"And though there is still much to do to create a more equal society free of discrimination and prejudice, there is a deep sense of togetherness and community spirit in our country," he added.
Mr Solanki spoke of the Covid-19 pandemic as a period that "has changed and continues to change so much about our lives and society".
"During its peak, we witnessed a sense of solidarity from shared sacrifice which inspired an outpouring of neighbourliness where people looked out for one another."
He stressed that local community pharmacists, who kept their doors open whilst others chose to closed theirs, were at the heart of a "neighbourly togetherness".
The pandemic has demonstrated "the value of community pharmacy as accessible healthcare professionals in the communities where people live. They proved that they really are the bedrock of our communities and the front desk of the NHS."
"The immense value of our vibrant network of community pharmacies can no longer be in question," he said, yet the sector has had to operate within a national contract that is "clearly not fit for purpose".
The network, he further said "remains in a perilous financial state despite "warm words of praise from the public and senior politicians".
Mr Solanki said that the latest announcement once again freezes funding for another two years and the current settlement, which comes after four years of flat funding, follows substantial cuts in previous years.
"And when inflation is taken into account, the stark reality is that the value of the pharmacy contract will have fallen by a quarter since 2015.
"Under these extreme financial pressures and the steep rise in inflation and energy costs, more pharmacies will close, depriving local communities of vital services," he said, referring to a recent report commissioned by the NPA which said the impact of the current funding and rising costs could see "thousands of pharmacies closing" in what they describe as an 'over the cliff' drop in pharmacy numbers.
A collapse in the community pharmacy network would have calamitous effects on the nation's healthcare and deepen the health inequalities, he added.
"Pharmacy is in dire need of an emergency cash injection and a long-term funding agreement that can sustain the sector."
In spite of the challenges, Mr Solanki sees a lot of positives for community pharmacy, however, as community pharmacy stands on the cusp of transformational changes. He believes it can play a key role in the prevention agenda, supporting people to live healthier lives for longer and by helping in the early detection of diabetes, heart disease, dementia and cancer.
But pharmacy's voice, said Mr Solanki, "has long been only a whisper in the corridors of power. It is time for that voice to be unified and amplified so that it will be heard at the highest levels.
"The leaders of the pharmacy bodies must come together and unite behind one vision, one plan and one voice for the future of community pharmacy.
"Never has there been a more critical time for this to happen."
Winners take it all
The evening heard of some of the finest work community pharmacies up and down the country have demonstrated, what innovations they have made and how the have adapted to meet the ever-changing patient needs and demands.
A total of 14 awards were handed out with three new categories making their debut at the 22nd edition of the Pharmacy Business Awards.
The erstwhile Pharmacy Business Editor's award — renamed since our 21st edition as the Pharmacy Business Ram Solanki Lifetime Achievement Award 2022 in honour of the founder of Asian Media Group and Pharmacy Business Ramniklal Solanki CBE — went to Raj Aggarwal, a distinguished pharmacist who has been a leading figure in community pharmacy for four decades and has contributed profoundly to the profession.
The top honours of the night, the Pharmacy Business of the Year 2022, was presented by former pharmacy minister and Conservative MP Steve Brine. It went to Hodgson Pharmacy in Longfield, Kent, overcoming stiff competition from two other worthy challengers.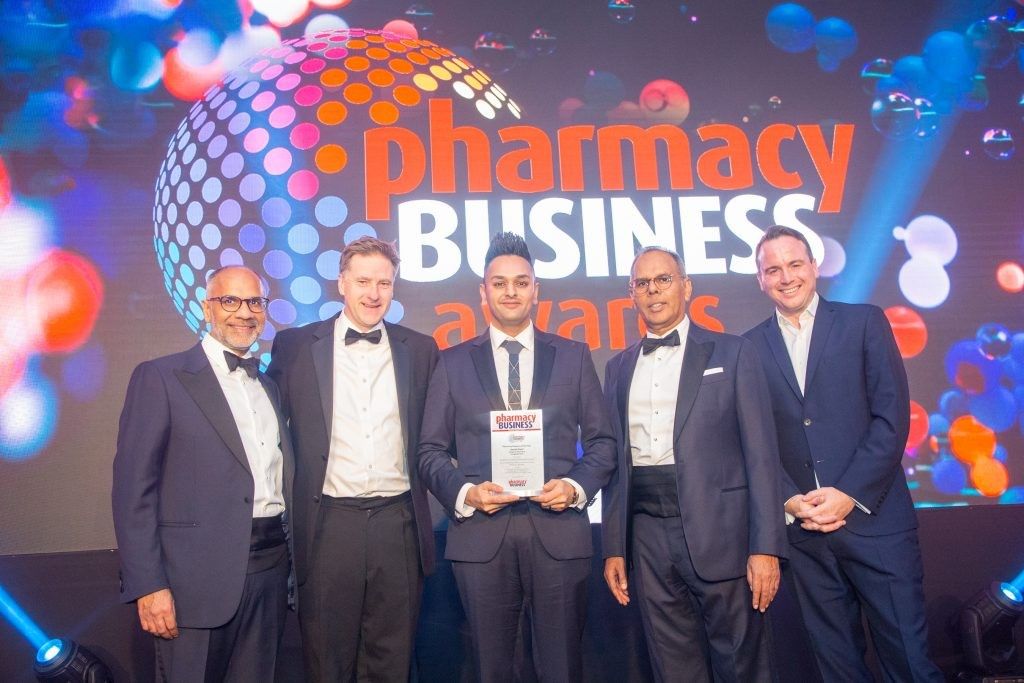 Sharing his excitement with Pharmacy Business, owner Amish Patel who runs the family-owned pharmacy, said: "Winning the top award is certainly the highlight of my career. I have been attending the awards ever since I qualified aspiring to one day be like the winners; innovative, pioneering and inspiring. Winning the award just gives that feeling I achieved that goal."
The brand new Pharmacy Business Sustainable Pharmacy of the Year Award 2022 saw a very close competition between two finalists — Alphabet Pharmacy in West Stratford, Manchester and Landy's Chemist in Finchley — with the North London pharmacy becoming the eventual winner of the category. Mitesh Desai's pharmacy uses algae-based or paper bags for customers and no plastic in the store. It recycles 95 per cent of its waste and its thriving e-commerce business uses no paper at all at any stages of the ordering process.
Another new category, the Pharmacy Business Aspiring Pharmacy Leader of the Year 2022, went to Aimee Coates of Forest Hall Pharmacy, who beat off her rivals by virtue of showing immense maturity in her short career which began only three years ago after she qualified as a pharmacist in 2019.
Lindsey Fairbrother of Good Life Pharmacy in Derbyshire was declared winner of the Pharmacy Business Inspiring Woman of the Year Award 2022. Lindsey was praised by the panel of judges for her passion for community pharmacy and being an exemplary role model and inspiring leader.
Mattock Lane Pharmacy in Ealing, West London won the Pharmacy Business GP/Primary Care Integration Award 2022 for their Herculean effort in bringing together 29 surgeries from across different PCNs to deliver in excess of 100,000 vaccinations in the area.
Superintendent pharmacist and a co-owner Rajan Shah said: "Really proud to win this award. I am thanking to our whole team who worked tirelessly to build great relationships with our local healthcare partners like GPs, PCNs and ICS/NHS colleagues, working collaboratively at all times to support our patients and local communities. This shows the power of community pharmacy and we looking forward to building on this recognition to develop more local services to benefit our local health needs."
A serious contender to the top award was Gill Pharmacy in Southall, West London.
Amarjit Singh Gill and his family have run this highly commended pharmacy for over 40 years they are deeply embedded in the community. It ended up winning the Pharmacy Business Local Health Initiative of the Year Award 2022 for the way in which the pharmacy has been reaching out to a diverse mix of communities from different faith and cultures whilst delivering a range of outstanding services 365 days a year.
Giving his quick reaction after winning the award, Mr Gill said: "After a very tough two years throughout the pandemic, to be recognised and appreciated in this way means a lot to me and my entire pharmacy team. This feeling of satisfaction is second to none."
Champion of pharmacy-led healthy lifestyle interventions in the community, Graham Philips, found himself among the finalists once again and he walked away with the Pharmacy Business Innovation Award 2022 for his outstanding initiatives at the newly-opened Letchworth Pharmacy in Letchworth Garden City which he wants to be 'the most clinical pharmacy in the country.'
Speaking to Pharmacy Business, Phillips said: "This was a very pleasant surprise for me and the timing couldn't have been better. It was my birthday earlier this week.
"Absolutely delighted to have been a finalist in three categories at the Pharmacy Business Awards. These awards are the most prestigious of the pharmacy calendar and every finalist is a winner. To have actually won the Innovation Awards was the best birthday present I can imagine! Still grinning."
Winners in other categories were as follows, which includes three top brand awards:
Community Pharmacy Heroes: Tracey Thompson, Sea Road Pharmacy, Sunderland
Enterprise Award: Mayank Patel, Pearl Chemist Group, South London
Independent Prescriber of the Year Award: Zafir Hussain, Nash Chemist, East London
Pharmacy Assistant of the Year Award: Lisa Day, Anstice Pharmacy, Shropshire
Pharmacy Team of the Year Award: Day Lewis Pharmacy, Oswestry Shropshire
Pharmacy Technology Award: Hylton Castle Pharmacy in Sunderland, Tyne and Wear
Community Award: Simon Harris, Cadbury Heath Pharmacy, Bristol
Generic Manufacturer of the Year: Teva
Branded Manufacturer of the Year: Johnson & Johnson
OTC Brand of the Year: Lemsip by Reckitt.