PHOENIX UK and the British Heart Foundation have joined hands for a partnership to continue the ongoing commitment of improving heart health across the UK.
The PHOENIX team have set the donation goal of £20,000 by June 2023 and are set to take on a range of exciting challenges over the course of the next year, such as a Tough Mudder and the Yorkshire Three Peaks challenge, all in a bid to raise funds for the heart health charity.
Nigel Swift, managing director of Rowlands, PHOENIX UK's largest community pharmacy member organisation, commented: "We are thrilled to be partnering with The British Heart Foundation. Its lifesaving research perfectly aligns with our mission across PHOENIX UK – to enable more people to live happy and healthy lives – and so we look forward to raising vital funds and supporting the excellent work of the charity."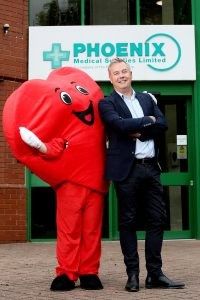 Hayley Gough, community relationship manager at The British Heart Foundation, added: "It's fantastic to see the team at PHOENIX UK commit to raising so much money for The British Heart Foundation. We can't wait to see all that they achieve and are so grateful for their fundraising efforts."
PHOENIX UK's commitment to heart health is already evidenced, following the launch of its free 'Heart Health Check' pharmacy service last summer, which is available at selected Rowlands and Numark pharmacies across the UK, to help keep adult heart health in-check.
The service welcomes customers in-branch to receive a heart-age score, along with a cardiovascular risk assessment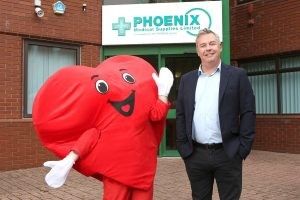 based on height and weight measurements, blood pressure readings and a Body Mass Index (BMI) calculation. The service also offers appropriate lifestyle advice and support or signposting to other local health and support services.
Nigel Swift concluded: "Community pharmacy must continue to play a pivotal and evolving role in how it supports the health of people across the UK. Introducing services such as heart health checks give local communities even more reason to visit community pharmacies as a first point of call for everyday healthcare needs. PHOENIX's new partnership with The British Heart Foundation is perfect in helping us align and drive real change in beating heart health inequalities across UK communities."