In a mutual agreement with the STADA board, Roger Scarlett-Smith has stepped down from his role as head of UK.
The company has assigned the responsibility of UK operation to Rudolf Bär with current responsibilities as cluster head for Mid-Sized European Markets.
Scarlett-Smith joined STADA in October 2018 to lead the UK operation upon the retirement of Dieno George. Prior to this, he had enjoyed an illustrious career in the Consumer Healthcare sector, largely with GlaxoSmithKline, for which he held positions including as President North America, President EMEA and Head of Global Categories.
Under his leadership, the STADA UK business has grown sales by 50 per cent and profitability has more than doubled. He has reshaped the business to improve efficiency. There has been a marked acceleration of product innovation including key line extensions to the Zoflora disinfectant range as well as the introduction of a salmeterol and fluticasone inhaler in the Rx respiratory sector. Meanwhile, T+R has developed a fine reputation regionally, being voted number 1 regional company last year and winning many national industry awards.
STADA CEO Peter Goldschmidt expressed his sincere appreciation for Scarlett-Smith's contribution over the past four years. During this time, he led the UK operation through the pandemic, the expansion and refitting of the Thornton & Ross manufacturing facility in Linthwaite, as well as the transfer of the commercial teams into purpose-built offices in nearby Slaithwaite.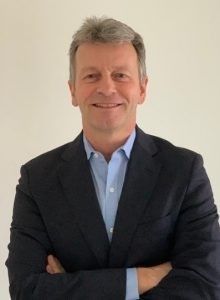 Bär who will report to STADA's head of European Markets, Stephan Eder, joined STADA in February 2019 in the role of vice-president Mid-Sized European Markets after more than 20 years' experience in the pharmaceutical industry, including in Consumer Healthcare, Specialty and Generics.
His prior experience includes a period as head of Central Eastern Europe, Middle East and Africa at PGT, the joint venture between Procter & Gamble and Teva.
He has led STADA's Mid-Sized European Markets to brink of EUR500 million annual sales by developing agile and entrepreneurial approaches in individual countries. This has included successfully integrating Consumer Healthcare brands acquired from GSK and distributed for Sanofi. Bär, who studied economics and biology, has been married to an English wife for 22 years.
Scarlett-Smith commented: "I am honoured to have served the UK business and the global STADA team. There are phenomenal opportunities ahead for STADA and I wish Rudolf (Bär) all the best as he assumes his wider responsibilities. I would like to thank the UK senior executive committee and everyone in the business both locally and globally for their support."