Novo Nordisk has launched PenCycle, a recycling initiative for pre-filled injection pens, designed to address the challenge of recycling injection pen devices.
A first-of-its-kind scheme in the UK, covering FlexPen® and FlexTouch® used to dispense insulin and other medications, will have community pharmacies playing a key role.
Users can return their devices to local participating community pharmacies or through pre-paid Royal Mail boxes or use an 'at home' collection pilot service for growth hormone pens.
The pens will then be returned to Denmark where the plastic will be recycled into a range of items, such as chairs and lamps, the Danish multinational pharmaceutical company said.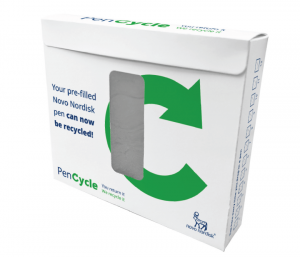 As part of the initiative, participating pharmacies will be provided a PenCycle Starter Pack, containing all necessary materials, including practical guidance on the initiative, patient information and materials for patients to take home and start PenCycling.
The pilot will launch initially across Greater Manchester, Leicestershire & Rutland, and Greater Glasgow and Clyde, ahead of a planned national roll-out next year.
The pilot alone aims to recycle over 150,000 pre-filled plastic injection pen devices, ensuring over two tonnes of plastic material is diverted from the UK landfill.
By the end of 2022, it aims to recycle 1.1 million pen devices.
According to the company, the project has a potential to recycle over 3 million pen devices in 2023, preventing over 56 tonnes of plastic waste.
Pinder Sahota, general manager UK, Novo Nordisk said: "As part of our Circular for Zero initiative, we were the first pharmaceutical company to run all of our production through renewable power, and now we are taking on the challenge of recycling our plastic pen devices.
"To provide convenient options to people we have focused on establishing partnerships with community pharmacies and the Royal Mail.
"Through this recycling initiative we can help to give used pens a new purpose, and play our part in preventing further waste."
Laura Sims, head of membership for the National Pharmacy Association, said: "We're pleased to be supporting the PenCycle collaboration, and helping our members understand the benefits of the pilot scheme and how to take part.
"Community pharmacies dispense more than a billion prescription items each year and can greatly increase sustainability through recycling."
Expressing delight over supporting the PenCycle initiative, Kevin Birch, chief retail officer at LloydsPharmacy, said his company is "committed to becoming a sustainable business, and we understand that our customers and patients expect us to play our part. Reducing plastic waste in our healthcare settings is a key part of our approach."