PHOENIX Medical Supplies Limited hosted visitors at its headquarter in Runcorn, Cheshire last week to better acquaint them with the Numark's latest dispensing solution – Golden Tote.
Numark members were invited to experience first-hand the benefits of Golden Tote via a state-of-the-art, interactive digital installation on-board a branded Luton van.
Parked outside the PHOENIX offices, members were given a guided tour of the off-site dispensing facility to witness the scale of operation; dispensing millions of repeat prescriptions across more than 450 Rowlands pharmacies each year.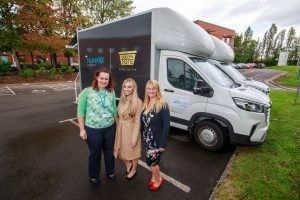 It provided a unique insight into the technology that sits behind Golden Tote.
Golden Tote is a market leading dispensary management system using bar code scanning technology to increase efficiencies, improve patient safety and significantly reduce stockholding of dispensary lines.
Jeremy Meader, managing director of Numark, commented: "It was great to be able to offer a hands-on demonstration to share the benefits of this innovative dispensing solution. Golden Tote reinforces our continued commitment in investment in automation designed to increase efficiencies, improve safety and reduce stockholding.
"Our members recognised the value Golden Tote could bring and it most definitely encouraged them to think differently about dispensing."
The event also provided an opportunity to meet with members and discuss the future of dispensing, he said.
He added: "Many habits inherent in the nature of dispensing such as stock management, manual handling, multiple accuracy checks and not to mention time consuming tasks such as manual price tendering, are now fundamentally inefficient. In real terms, the unseen, hidden expense of traditional dispensing is often overlooked.  That's where Golden Tote comes in to its own.
"We look forward to introducing our latest dispensing solution to even more members over the coming weeks and months."