Brand manager Ruth Giles explains why pharmacists should stock the Care range which has over 60 tried and trusted remedies that cover the majority of minor health concerns…
Why should pharmacists stock this brand?
Care is the number 1 brand sold through UK pharmacy. We offer over 50 quality and effective products to treat everyday ailments including, coughs, colds, pain relief, skincare, heartburn, constipation & female health – many with the same active ingredients as category leading formulas at more affordable price.
However, it's not just about the products we offer. At Care we want to ensure pharmacy staff have all the tools they need to confidently advise customers about how to manage their symptoms and make the right product recommendations to treat every day minor ailments.
So, in addition to our wide range of products, we have taken the time to understand what support pharmacists are looking for, through brand research. Today, we are very proud to assist pharmacy staff and expand their roles by providing educational tools and support services – all delivered through 'The Ultimate Guide to Care' a dedicated, easy to download mobile application.
The guide offers ready-to-hand practical information about our full product range in a user-friendly digital flip book. Digestible information on product entries in a consistent, easy-to-use format that provides all the relevant product information needed to assist in their day-to-day job.
A helpful 'Brand Match' feature in the app compares key Care product information with the leading branded products, showing that information such as product classification, active ingredients, dosage and size are often the same as the category brand leaders.
All our resources are free of charge and easily available for daily use on mobile devices or tablets to ensure pharmacy staff have all the tools they need to confidently advise customers.
What is the history of the brand?
Care has a 30-year heritage as a trusted pharmacy partner and was established in 1991 in the foothills of the Pennines in West Yorkshire, where our parent company, Thornton & Ross, has been based since 1937.
Thornton & Ross is now part of STADA – a leading global manufacturer of high-quality pharmaceuticals. With a long-standing heritage rooted in pharmacy, STADA has been perceived as a reliable and trustworthy partner for more than 125 years.
What is the secret of its success?
Care not only has a comprehensive and effective range of products to treat everyday ailments including, coughs, colds, pain relief and skincare at affordable prices, but it also looks after the pharmacists working in the industry too. Our app is an unrivalled mobile application full of educational tools and support services to give pharmacists greater support to deliver the best assistance possible to customers.
What category management advice would you give pharmacists looking to stock this brand?
There is no underestimating the power of a planogram and at Care we have developed a range of planograms to assist pharmacies showcase our top selling products, whilst suggesting the best way to categorise products according to minor health concern both in front and behind the counter.
These simple visual guides show how products can be displayed so both pharmacy staff and customers can find the product they need quickly and easily.
Not only do they make displays look attractive and effective they also take the heavy lifting – in terms of time and resources – out of merchandising by explaining what fits on an average shelf and how it will look.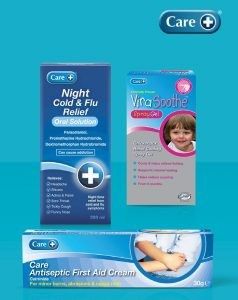 What is the ultimate aim for the brand?
Care's brand vision is to remain the number 1 brand sold through pharmacy, the go-to for product recommendations and pharmacy support services for all minor health concerns.
We are committed to continued innovation that provides effective alternatives to match category brand leaders, whilst retaining the most widely-loved established Care solutions.
How important are independent pharmacists to the brand?
We have strong heritage within independent and community pharmacy and have built trusting relationships with pharmacy staff over the last 30 years.
Our consumers in particular have a trusted relationship with independent pharmacists. They rely on the pharmacy team to be there for them when they can't get a GP appointment, or don't know if they need to. Following the pandemic, the role of local health advisors has never been more important – independent pharmacists play a vital role in dispensing accessible advice.
What is the main marketing activity around the brand?
The marketing activity has been mainly focused on supporting pharmacists during the ever-changing healthcare landscape. Care aims to go beyond providing just over-the counter medicine to try and make pharmacists lives easier with a range of services. Therefore, we've looked to split activity with two distinct messages.
Both are delivered through trade press advertising and digital marketing activity on targeted networks, but one focuses on the Ultimate Guide to Care App, looking for pharmacists to download and take advantage of our range of benefits, while the other aims to raises awareness of our wide product range.
We've also used earned media opportunities to position Care as experts in the field across key trade titles, offering insight on various pharmaceutical topics and mentioning Care products within.