Health secretary Sajid Javid visited Medicine Chest Pharmacy in London on Friday (January 28) and thanked pharmacy teams across England for delivering well over 20 million Covid-19 jabs.
According to the latest research conducted by the National Pharmacy Association (NPA) and PharmData, independent community pharmacies were the biggest deliverers of Covid-19 vaccines during January 2021 to September 2021 as compared to corporate-run pharmacy sites.
As of January 2022, pharmacies across the whole sector had delivered 22 million Covid jabs, with the majority of them being independents of whom most are NPA members.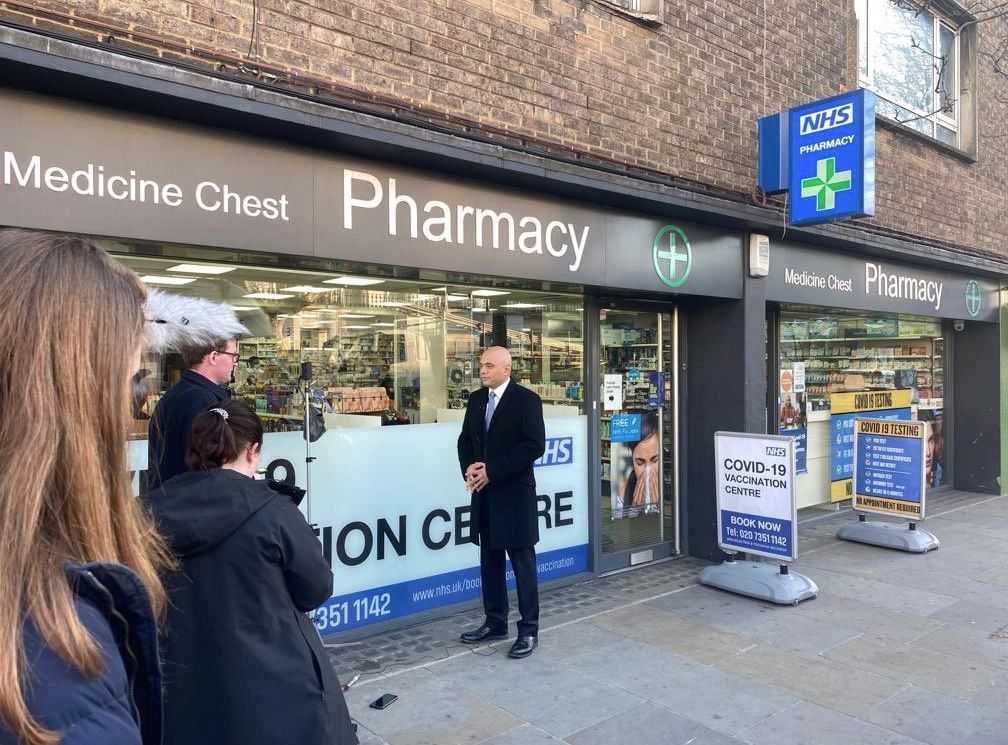 In a video message released after the visit, Javid said: "Today I am here at Medicine Chest pharmacy in London to thank them, all pharmacies, the NHS, for the fantastic job they have done particularly over the last few months to get our country boosted. It's because of this phenomenal success that today we are able to return to Plan A as we see Omicron in retreat and we learn to live with Covid."
He said that after the success of vaccination programme "we're able to announce a significant easing of restrictions on care homes" from Monday (January 31), and "will be significantly cutting self-isolation periods."
Encouraging people to get vaccinated, he added, "please do come forward, get vaccinated, protect yourself and protect your community."
NPA member Rohit Kotecha who runs Medicine Chest Pharmacy said: "We started Covid jabs in June 2021 and have vaccinated over 22,000 patients. We are open seven days a week and were vaccinating over Christmas and New Year to support the campaign to boost everyone this winter.
"It was good to have the health secretary visit to thank us for our work – it's really important that politicians get a sense of what we do first hand."
On decision to deliver Covid jabs, Andrew Hodgson, owner of Andrews Pharmacy in Macclesfield, said he always wanted to take on new services available for pharmacy "as services are the key to the future".
Andrews Pharmacy is one of the first few community pharmacies to administer Covid-19 vaccines.
"We have a number of consultations rooms so we could get up and running at scale in a relatively short time.
"It was great for the nation and the world but it was good for the pharmacy too."
Another NPA member, Olivier Picard, who runs the Newdays Pharmacy group, established the Marlow Covid-19 vaccination clinic in a block of offices in Marlow, Buckinghamshire.
Picard with his team and volunteers started administering Covid-19 vaccines from January 22, 2021.
He said: "The reason we wanted to do it was because we were in complete lockdown and we had already been participating in the provision of vaccination for flu and we thought we could do this."
"This would be the way out of the pandemic and now we are seeing it's having great benefits on the health of the local population."