signatureRx has announced that its fraud-proof, paperless e-prescriptions are being accepted by pharmacies across the United Kingdom, ensuring the safe, speedy and seamless provision of vital medication to thousands of patients nation-wide.
signatureRx's e-prescriptions remove the need for ink-singed prescriptions, instead using an advanced electronic signature, which is heavily encrypted to ensure security, to verify scripts. This allows for streamlined and paperless prescription fulfilment.
signatureRx is already generating thousands of prescriptions per month and this number is expected to rise significantly in 2021 as more and more clinicians and pharmacists realise the benefits of using signatureRx.
The number of private virtual and telemedicine consultations has skyrocketed during the coronavirus pandemic, and with patients being seen remotely with doctors working from home there have been logistical issues with prescriptions.
Clinicians had to telephone or email pharmacies to request that medication be dispensed before sending traditional paper prescriptions in the post, with the risk of loss that entails. Pharmacies, meanwhile, have had to deal with reams of extra paperwork.
With signatureRx's paperless e-prescriptions – which have been designed in accordance with the same regulation that governs the NHS Electronic Prescription Service – the need for that time-consuming process is circumvented. A clinician only needs to present a patient with a digital prescription ID via message or email, which they can then take to a pharmacy of their choice to be dispensed.
signatureRx's e-prescriptions are better for the environment and there are no charges passed to the pharmacy for accepting the prescription. No paper means no waste, while the cost of a signatureRx script is charged to clinicians so the pharmacy can charge their usual private prescription dispensing charge at the pharmacy.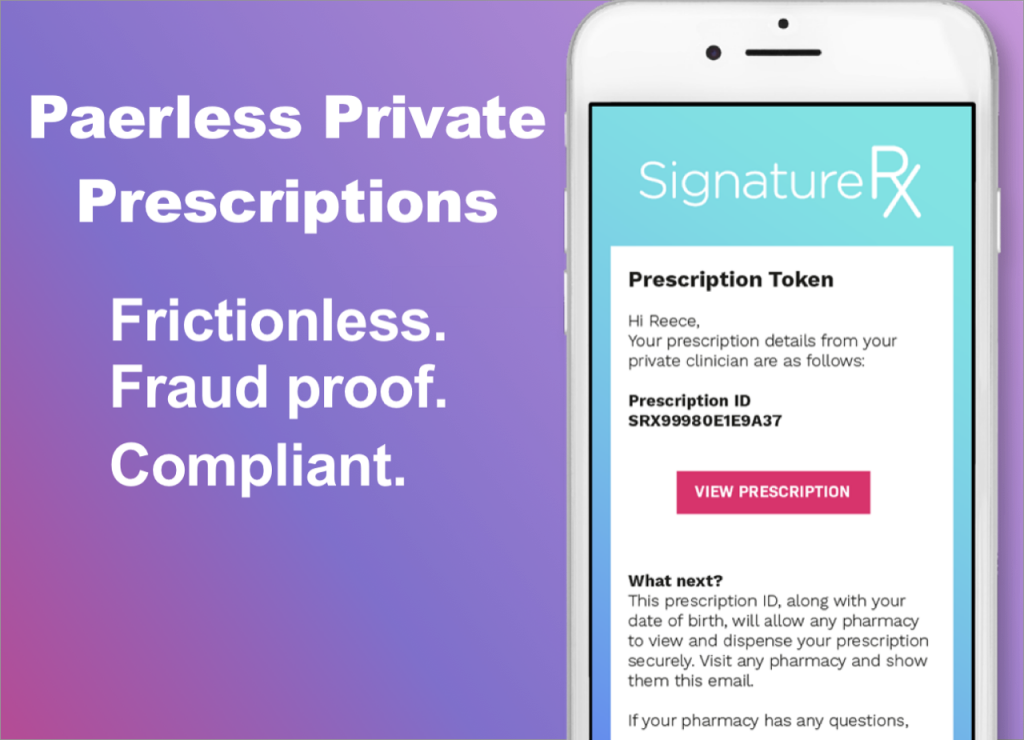 Additionally, signatureRx's highly secure system eliminates the risk of fraud. Owing to the secure technology that signatureRx uses to transfer the information in each script.
For community pharmacies, there is the added benefit of not needing to sign up prior to being presented with a signatureRx prescription ID. When a patient presents with a signatureRx's prescription, pharmacists in any store in the country can simply enter the ID and the patient's date of birth into the signatureRx website to view the prescription and dispense the medication.Once dispensed the system will prevent the prescription being dispensed again at another pharmacy.
This allows community pharmacies to benefit from the private telemedicine boom without worrying about security and without any changes to their existing infrastructure.
Private video consultation service Vala Health is one of the healthcare providers already using signatureRx. Shellane Crisostomo, the Co-founder of Vala Health, says: "signatureRx is a valuable experience for both our clinicians and patients. Our clinicians can focus on quality patient care as signatureRx makes sending e-prescriptions throughout the country secure, quick and straightforward. Our patients' expectations are met with same day prescriptions and seamless tech-enabled end-to-end care. An incredible service!"
Reece Samani, the CEO and founder of signatureRx, says: "We are proud of the service signatureRx provides- it is an innovative, efficient and secure way of sending writing and dispensing prescriptions that can be used by any private clinician and any pharmacy in the country. We are certain of the benefits to patients, doctors and pharmacists and we look forward to seeing the service being used even more widely than it currently is in the coming months and years."