American global healthcare company, Viatris, has launched a new rapid self-test for qualitative detection of antibodies developed after Covid-19 vaccinations.
The firm is going to market the Covid-19 Neutralizing IgG Serological self-test, manufactured by PRIMA Lab SA, in the UK market, which would check presence of neutralizing antibodies after vaccination.
The presence of antibodies indicates that a person has had an immune response to the Covid-19 vaccine, and not that protective immunity has been acquired.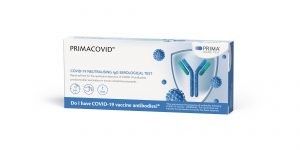 The self-test that can be performed easily at home with a small blood sample, delivers results in just 10 minutes and has a recommended retail price of sub £20.
After two doses of the Covid-19 vaccine, the self-test has shown a seroconversion rate of 98.3 per cent for the Pfizer vaccine, 98.5 per cent for the AstraZeneca vaccine and 95.2 per cent for the Moderna vaccine.
It recommended that the test be performed at least 14 days after completing the vaccination cycle.
Commenting on the launch of the test, Viatris UK country manager, Matt Salzmann, said: "In these uncertain times, and with the long-term protection offered by vaccines currently unknown, even those who are fully immunized may wish to seek extra reassurance.
"As recent studies suggest, vaccines may lose their full effectiveness against Covid infection so taking the necessary precautionary measures is imperative. That is why Viatris decided to respond to this important medical need by making available a revolutionary self-test kit."
The test measures whether the body has generated antibodies at the level of 50 BAU/mL. A result above this level, will appear positive, and below as negative.
Salzmann added: "At a time when a large part of the UK population is vaccinated, we consider it very important that we provide access to a convenient self-test for people who wish to know their antibody status, especially those who are at risk."