The Association of Independent Multiple Pharmacies (AIMp) celebrated achievements of its members during the pandemic at its first annual 'ball and award' ceremony held last week in London.
To highlight the important role played by pharmacy teams, the association representing  community pharmacy businesses with multiple branches, introduced two award categories – for patient safety and social care.
Stephen Walls from H I Weldricks won the Patient Safety Awards and Sandeep Dhami, Nadia Hussain and Sachin Basandrai from MW Phillips won the Social Care Award.
Congratulating the winners, Leyla Hannbeck, CEO of AIMp, said that community pharmacy teams "have worked tirelessly to deliver patient care throughout the pandemic."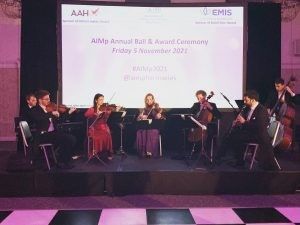 David McNicol, head of sales at AAH Pharmaceuticals, noted that the country and community pharmacy witnessed the toughest 18 months, and the gathering provided an opportunity to discuss ongoing challenges.
"The Covid-19 pandemic was the biggest challenge we have all faced for some time, and community pharmacy can hold its head up high that you all played your role in supporting patients and the country."
With support from the medicines distribution sector, community pharmacies kept vital medicines supplied to patients, he added.
"We did that together, and we should continue to tell the story of the value that community pharmacy brings to patients every single day."
Jeremy Meader, managing director of Numark, said it was great to hear from other members of the sector that "how well they had coped with all the challenges" during the pandemic.