The NHS England chief executive Amanda Pritchard saluted the effort of over 100,000 Covid volunteers who alongside the NHS staff helped to deliver record-breaking numbers of jabs in December.
The "selfless volunteers" devoted around two million hours to help ramp up the vaccination programme in 2021– with over nine million doses delivered since December 12, when the prime minister announced the turbo-charged vaccination drive.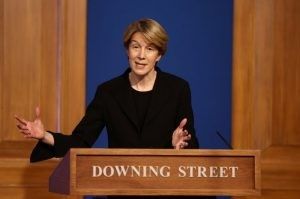 Pritchard said: "Alongside NHS staff, our selfless volunteers have worked tirelessly to protect the nation – in football stadiums, shopping centres, Christmas markets and countless other vaccination sites up and down the country.
"I want to give my personal thanks to everyone who has given up their time to help us beat record after record – continuing to make the NHS Covid-19 vaccination programme the biggest and most successful in health service history.
"I'm sure the nation will join me in paying tribute to these amazing volunteers, whose efforts will undoubtedly help to save many more lives."
In the wake of the Omicron variant, the NHS launched a drive to recruit more vaccinators and volunteers for which thousands came forward.
Besides, 17,500 people have expressed interest for paid vaccination role and 48,000 people have registered as steward volunteers through the NHS Volunteer Responders programme.
Pritchard continued to encourage people to take the booster jab  as the latest data from the UK Health Security Agency (UKHSA) showed two doses of a Covid vaccine are not sufficient to protect against Omicron.