While the UK remains on track to complete vaccination of the top four priority groups by mid-February, vaccine supply has been and will be a limiting factor, the vaccines minister has said.
Nadhim Zahawi told a webinar hosted by Sigma Pharmaceuticals on Wednesday (Feb 10) that a target would be set for reaching all those aged between 50 and 70, and patients with underlying conditions, only after the most vulnerable were offered a jab by February 15.
He thanked community pharmacy "for putting yourselves forward" for the local enhanced service, and announced that like the flu jabs, Covid vaccines will most likely become an annual affair in which pharmacies will play a very important role.
He said that nearly 200 community pharmacy-led sites were now being used to vaccinate patient cohorts 1 to 4 in the first phase.
In response to a question on why a very small number of community pharmacies were asked to participate in what's been the country's biggest ever vaccination programme, Zahawi said the deployment infrastructure that has been built was such that it is sufficient to deal with "as much vaccines as we get," meaning the 1,585 vaccine hubs, including 194 led by community pharmacies, were just enough to deliver the shots which were procured by the Department of Health and Social Care and were in supply.
"We're now looking ahead towards vaccinating those in cohorts 5 to 9, and I can assure you that community pharmacy's involvement will continue to be crucial for these next cohorts," the minister said, without giving out a specific number, but he added that "most pharmacies are expected to be involved where there are geographic and capacity gaps in service provision".
He said nine in 10 over 80s and half of the people in their 70s have already been offered a Covid-19 vaccine, alongside almost all (93.5 pc) eligible care home residents.
Calling community pharmacies "the local lifeline for patients and the public," the minister praised pharmacy teams for steeping up "at this crucial time providing vital services to the population".
"You made a direct contribution with the medicine delivery service for shielded patients, and by taking part in the biggest flu vaccination service we have ever seen," Zahawi said.
After an 'amazing' flu vaccination season, it was only fair that community pharmacy expected to play a major part in the national rollout of the Covid-19 jabs.
Pharmacy getting raw deal?
A number of attendees in the webinar chatroom expressed their concerns that community pharmacies were getting a raw deal, and called for the need for greater flexibility on the ground for those few participating in vaccine deployment.
One attendee complained: "No surprise that GP-led sites are allowed to self-govern whilst pharmacy-led sites have to be bound by red-tape and crippling bureaucracy."
Winner of the 20th Pharmacy Business of the Year Award, Rikin Patel, who runs a vaccination hub in a London suburb complained that the national booking system (NBS) was not signing up enough patients for pharmacy-led sites who solely relied on it to send through patients.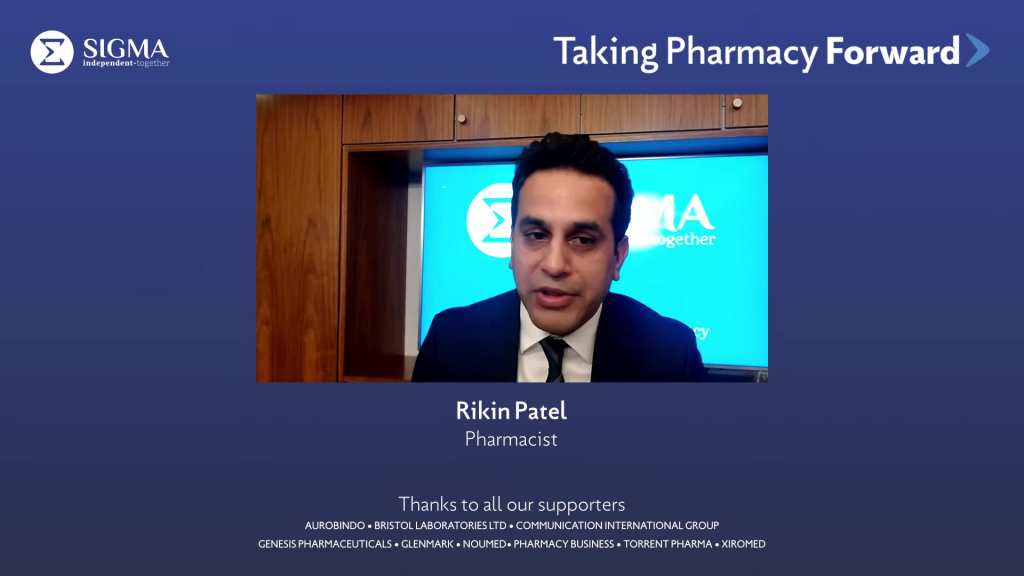 "My colleagues at a pharmacy-lead sites, especially in London, are finding it very difficult. They've got vaccinators ready, staff, volunteers, plenty of vaccines sitting in the fridge, but no patients booked in.
"For example, today we had the capacity to vaccinate 200 people at our site, but only 20 appointments were booked in through the national booking system.
"We have seen PCN sites being able to move into the next cohorts a lot quicker than pharmacy sites with some vaccinating all over 50s, especially in London. The National booking system is holding us back from vaccinating patients unfortunately. We've got patients that are desperate to be vaccinated at the pharmacy and we're having to turn them away despite having the capacity."
He said patients cannot understand why pharmacies cannot vaccinate them even though they've been sent a text from their GP inviting them for a vaccination.
"Even when the next cohort opens, hopefully next week, most of the over 65s locally, have already been vaccinated and what is being done to address this?" he asked the vaccines minister.
Zahawi responded by saying that cohort prioritisation was standard across sites but added that the new cohorts which were imminent would bring in millions more people.
Prioritisation is JCVI's call
Sharing the platform with the minister was chief executive of the Pharmaceutical Services Negotiating Committee, Simon Dukes, who said community pharmacy sector had proposed to the government that the network could offer over 1,000 pharmacies doing 400 or so vaccines a week and over 5,000 pharmacies doing a 100 plus vaccines a week, however acknowledging that not every pharmacy had the capability of administering the vaccine.
Additionally, he asked the vaccine minister why pharmacists could be asked to vaccinate "some of those non-health related cohorts – law enforcement, bus drivers, teachers – all of whom, of course, could be specifically invited to a community pharmacy."
Zawahi said it was a question he would put to the Joint Committee on Vaccination and Immunisation (JCVI) who made the final call on which groups needed to be prioritised, including wholesale delivery drivers about whom Sigma's executive director Hatul Shah had enquired.
Shah, both on behalf of Sigma and as a Healthcare Distribution Association member, had asked the minister if medicine wholesale workers who play such an essential role in keeping supplies moving could be included in the next cohorts.
Dukes said, "pharmacies see themselves as very much as part of the NHS" and that "they want to do their national duty in getting the nation out of this crisis".
Vaccine hesitants
Community pharmacy had a great role to play in reaching "vaccine hesitant communities," Dukes said, giving an example from when he had recently visited a community pharmacy where a patient insisted that her vaccination was filmed so that she could put it on social media and underline the importance of vaccine to her community.
"We know that community pharmacy can reach into those often hard to reach groups," Zawahi said, adding: "I really want to work with community pharmacy to keep driving take up of the vaccine because ultimately we want to protect everyone we possibly can as quickly as we possibly can."
Building on work already underway to reach more hesitant audiences, which includes translating vaccine resources in over 13 languages, the government's plan aims to raise awareness of how the NHS is making vaccination accessible to all including people from ethnic minority backgrounds.
However, due to what he called "practical and logistical issues," he said the NHS would be using the same local enhanced service commissioning route for the next phase for community pharmacy although in the longer term "the ambition is for the service to be commissioned from a significant number of pharmacies".
Innovative pharmacists
He spoke highly of community pharmacists for coming up with "some exceptional and innovative models" to maximise vaccinations.
The minister gave example of a team of 22 community pharmacists in South Tyneside, who have been vaccinating housebound patients and carers on the weekends, especially those who find it difficult to leave the house as part of the new local scheme.
"And in Bedfordshire, rather than a PCN, we have three community pharmacies providing the vaccination service to the local population in cohorts 1 to 4."
He said even where pharmacies are not providing the Covid vaccination themselves, community pharmacy teams, as trusted members of the local community, have a vital role to reach out to their local populations to encourage people to get their vaccinations.
"And, of course, in answering those questions for those who have questions or unsure about vaccination for themselves. we know that some communities are more hesitant about a vaccine for a range of reasons and sadly, many of these groups were disproportionately affected by the first wave of the Coronavirus."
The first episode of the series of webinars titled 'Taking Pharmacy Forward' saw about 500 community pharmacy professionals in attendance.
Sigma's co-founder Dr Bharat Shah CBE announced that the next webinar in the series will be held on Tuesday, March 30 with Lord David Prior, chairman, NHS England and Mark Lyonette, chief executive of National Pharmacy Association on the panel, and chaired by Steve Brine, MP.
"Sigma is really pleased with the first webinar, and glad that many pharmacists were able join us. We are looking forward to continuing the series to bring information and clarity to Community Pharmacists everywhere," Shah said.